Independence Day 2021: Here Are 5 Ways To Celebrate India's 75th I-day With Friends And Family Amidst Covid-19
Independence Day 2020: have a quick look at 5 unconventional ways to celebrate India's 74th I-day with friends and family amidst Covid-19.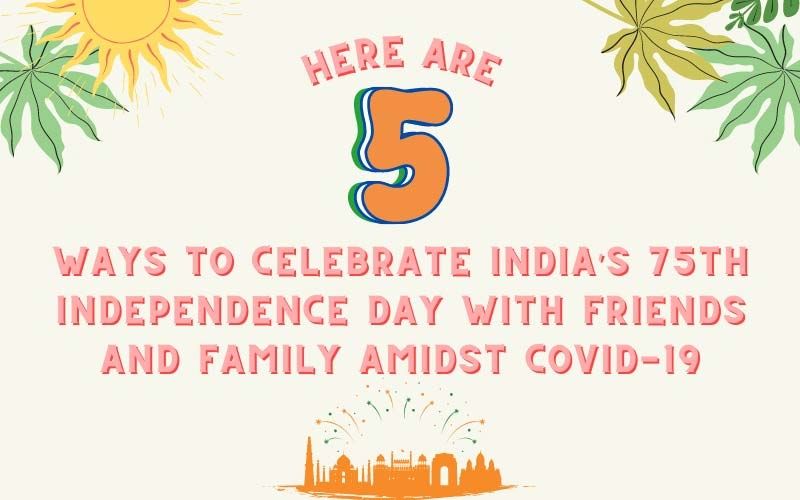 The time never stops; it flies, Instead of COVID-19 lockdown, check out! Here are 5 funny and unconventional ways that make us feel patriotic and celebrate India's 74th Independence Day with our family and friends.
Every year, August 15 is celebrated as Independence Day Of India. We try to dress up in nothing less than festive spirits. Singing the national anthem with our friends. Whatsoever, this year with the COVID-19 pandemic raging outside and the social distancing protocols in place; the whole idea was dampened as India celebrates its 74th Independence Day.
Check out these 5 engaging and unconventional steps to celebrate India's 74th Independence Day with your family and feel patriotic.
1. Tricolour Spree:
Instead of feeling melancholic, you may prepare tricolored delicacies at home –it could be delicious tricolor pasta or simply cold drinks or juices with evident orange, white and green color.
2. Online Theme party:
Lockdown due to COVID-19 have made with trendy social media challenges so why not we can celebrate Independence online? We can decide on an online theme party. We can dress up in our best attire and paint social media tricolor with our selfies or family group pictures.
3. Inda's favorite group game:
Antakshari on patriotic songs: In lockdown one can be socially but not emotionally distant. Since it is declared a national holiday across the country, we can use our video calls for something fun for once before boring office Zoom / Google Meet calls. A virtual gets together with our friends, with casually dressed up and can play a game of antakshari on patriotic songs.
4. Night Show Movie:
Post daily chores one can plan to see a movie virtually with friends. The social distancing cannot come in between a movie night with your closed ones so make the most of it and look up some patriotic flicks like Rang De Basanti, Lagaan, Mother India, The Legend of Bhagat Singh, Border among few others.
5. Reconnect with old buddies:
As the communal tensions are increasing in the country and we may call for bridging the gaps by celebrating Independence Day together. We should put aside our political difference and the best day to reconnect with our old buddies from different communities in case we have lost touch. This will help us in reliving the old memories by bonding.
In this way, we can make memorable our 74th I-day Independence day despite lockdown and social distancing protocol due to the COVID-19 pandemic condition.



Image source: SpotboyE Team