Iran's 'Zombie Angelina Jolie' Aka Sahar Tabar Reveals Her REAL Face On Camera After Release From Jail In Blasphemy Case-PIC INSIDE!
Sahar Tabar was arrested in 2019 on the charges of 'corruption' and 'blasphemy' and was sentenced to 10 years in prison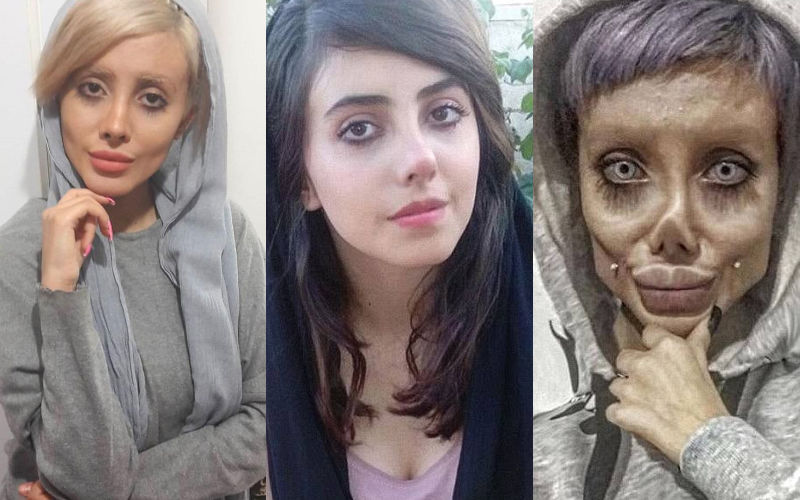 Iranian influencer Sahar Tabar gained notoriety in 2019 for her spooky photos resembling Hollywood actor Angelina Jolie on Instagram. The social media influencer has finally revealed her face after her release from jail for a blasphemy case.

Now, as per the latest reports, the 21-year-old influencer has finally revealed her real looks to the camera. During a recent interview, she revealed her real face and said that she had presented earlier was just make-up and Photoshop. She even expressed her desire to gain stardom via social media. "Cyberspace was an easy way," she pointed out.
"It was much easier than becoming an actor." She underwent a slew of plastic surgery to look like the global sensation - Angelina Jolie, but the procedures left her looking like a very emaciated and creepy version of the popular actor.
Sahar had previously claimed that she had undergone alterations on her face with as many as '50 plastic surgeries'.
Following her release from jail, Ms Tabar shared that she had undergone some cosmetic procedures, like a nose job, lip fillers and liposuction. She also clarified that the infamous zombie-like images were a result of make-up and editing in Photoshop.
"What you saw on Instagram was the computer effects I used to create the image," she told a state-run outlet.
Sahar Tabar's real name is Fatemeh Khishvand and she even maintained that she wanted to become famous and chose the macabre makeover to gain international attention. "It was much easier than becoming an actor," she told a portal.
When she was jailed, Alinejad had tweeted: "Sahar Tabar is only 19. Her joke landed her in jail. Her mother cries every day to get her innocent daughter freed. Dear Angelina Jolie, we need your voice here. Help us."
Interestingly, Sahar had reportedly admitted to the hoax back in 2017 while speaking with the Russian news portal Sputnik, and shared that she often altered pictures to amuse herself.
Image Source: Instagram, Twitter