Kanye West's New Rumored Girlfriend Chaney Jones Poses NUDE For Latest Mirror Selfies, Rapper Couldn't Stop Himself From Liking Her Pics!
Chaney Jones shared two nude pictures on social media and left very little for her fan's imagination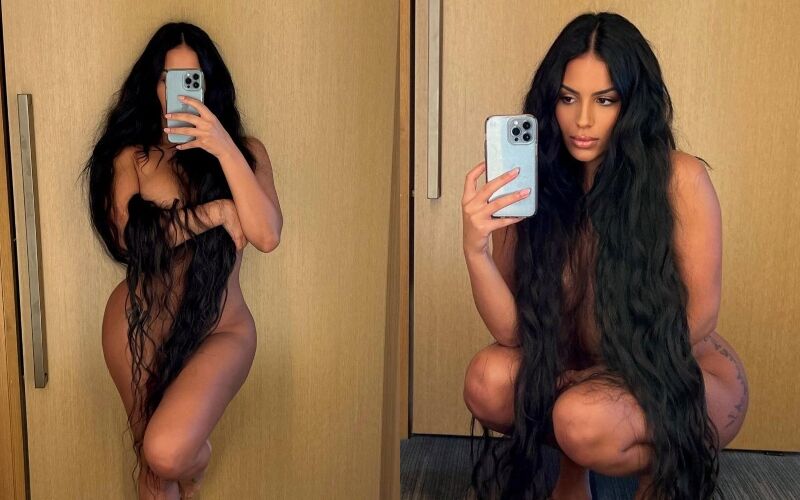 Kanye West's new flame, Chaney Jones has stunned the internet as she shared a sensual nude snap on her official Instagram handle. The latest post was definitely a treat to the thousands of people on the gram and it seems West also couldn't hold himself back from double-tapping it.

Sharing two nude pictures on social media on Monday, the model left very little for her fan's imagination. Jones covered up her modesty with her long black hair extensions as she posed for a mirror selfie.
For the first picture, Chaney Jones crouched on the floor, letting her hair fall over her chest as she pouted for the camera. The other snap saw the model standing, concealing her nudity with an arm across her chest and covering her face with her iPhone.
Chaney's latest pics come hours after the 24-year-old shared her first public selfie with Kanye West as their romance continues to heat up.
Kim Kardashian's lookalike shared a snap of herself on her Instagram Stories, posing with Kanye and adding a black heart emoji. The couple was first linked together in early February when they were seen smiling and laughing at Soho House in Malibu.
Shortly after the post was shared, fans noticed that Kanye West had liked the picture, pointing out his account among 62,000 others that double-tapped the photo.
Other fans of the shots included Jayda Chaves, Instagram model Yasmine Lopez, Dess Dior, and more. It's probably no surprise that Chaney Jones' nude photo set is amongst her most popular Instagram posts so far with thousands of likes and many comments from admirers.
"Long hair. Don't care!!!" one fan wrote regarding Jones' carefree attitude in her latest pictures."Take it easy on us SHEESH!!!!!!!" another commented, with more fire emojis. Instagram model Yasmine Lopez reacted with 😍😍😍😍😍😍 to Jones post. Another wrote, "Gorgeous, natural, lady."
Image Source: Instagram