Kanye West Talks About Kim Kardashian And Pete Davidson's Fireplace SEX ROMP; Claims 'Jewish Zionists' MADE Her Get Candid About Her Sexual Adventures-REPORTS
Kanye West discussed Kim Kardashian and Pete Davidson's intimate sexual adventures near the fireplace at the Beverly Hills hotel as a tribute to his grandmother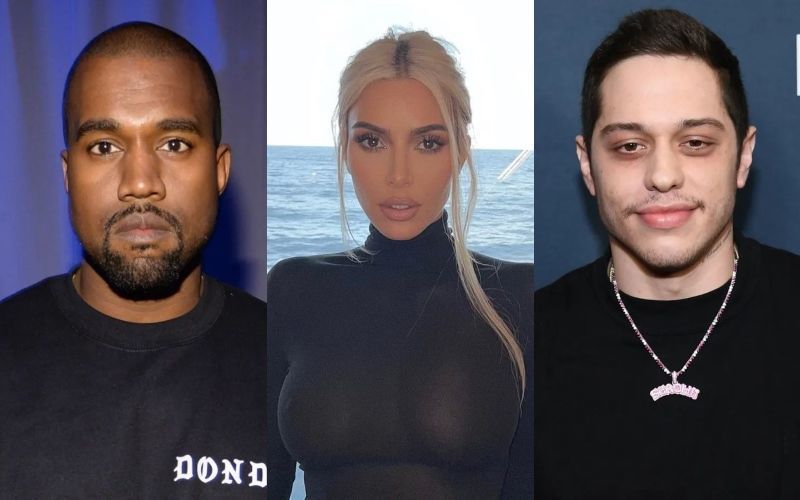 Kanye West, who officially changed his name to 'Ye' seems to have been engaged in yet another antisemitic rant while reacting to his ex-wife Kim Kardashian's fireplace sex with Pete Davidson. The Yeezey founder, in an interview on 'Drink Champs', discussed Kim and Pete's intimate coitus. West's recent remarks come after Kim Kardashian spoke about how Davidson made love to her in front of a fireplace at the Beverly Hills hotel as a tribute to his grandmother.

The rapper told hosts N.O.R.E. and DJ EFN, "We Jew so I can't be an antisemite. First of all, I need my stadiums back. The 78 media outlets that called me an 'abuser' when I was trying to get … Pete Davidson away from my kids that was tattooing my kids' names on him, Skete," while recalling Davidson's tattoo's for Kim during their alleged affair, as reported by Meaww.
He continued on how Kim's sexual confession on 'The Kardashians' alluded to Jewish Zionist practice. Kanye West went on to say, "Kim is a Christian - on TMZ, I just saw it yesterday, it said, 'Pete Davidson and Kim had sex by the fireplace to honor they grandmother'."
Ye added, "It's Jewish Zionists that's about that life, that's telling this Christian woman that has four Black children to put that out as a message in the media." West also told the hosts, "So when I drive by and I see the Hulu ads and I see the JP [Morgan Chase] ads, I'm gonna let y'all know right now, the devil is a defeated foe - you can't poison me."
It all started after the telecast of the 'The Kardashians', which featured a sequence of Kim and Davidson's alleged affair prior to their breakup, Kim was seen saying, "You know what's so crazy? Pete and I were staying at the Beverly Hills Hotel last weekend and we were sitting in front of the fireplace just talking for hours. I was like, 'My grandma told me that you really live life when you have sex in front of the fireplace.' And so, we had sex in front of the fireplace in honour of you. I know that's probably creepy."
ALSO READ | OMG! Pete Davidson Seeks 'Trauma Therapy' Due To Kanye West's 'Online Harassment'; Kim Kardashian Condemns Ex-Husband's Behaviour!
For the unversed, Kim Kardashian and Kanye West divorced each other in February 2021 and the former couple share four children North, 9, Saint, 6, Chicago, 4, and Psalm, 3. Following their split, Kim dated 'Saturday Night Live' alum Pete Davidson but shortly they called it quits.
Image Source: Instagram