Kate Middleton Will Fly To Los Angeles To Confront Meghan Markle And Prince Harry About Their Tell-All Oprah Interview? Here's The Truth
According to some reports, it is said that Kate Middleton will confront Meghan Markle and Prince Harry on Queen Elizabeth's request because of their tell-all interview with Oprah Winfrey but it is all false. Here's why! Read on…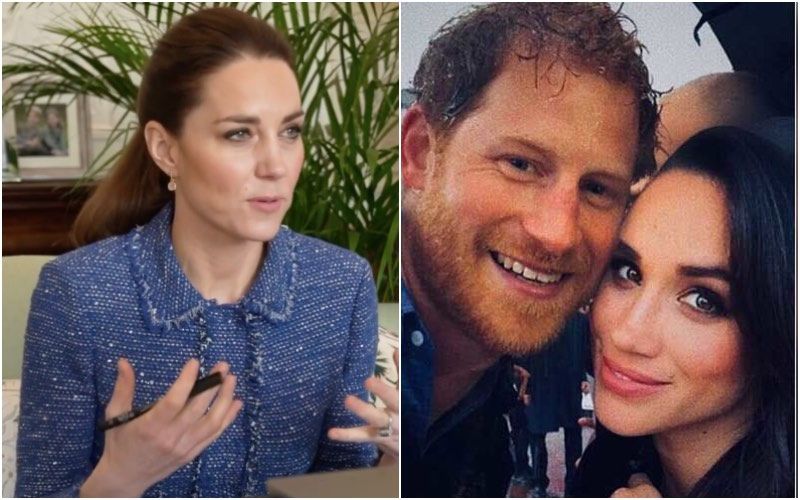 Many bogus reports have surfaced online regarding the former royal couple, Prince Harry and Meghan Markle in the past and none of them has turned out to be true. Here's one more that we recently came across and it is that the Duchess of Cambridge, Kate Middleton will be flying down to Los Angeles to confront Meghan Markle and Prince Harry on Queen Elizabeth's request because of their tell-all interview with Oprah Winfrey, but it is all false. According to the cover story of New Idea, they have used a photo of Queen Elizabeth who is seen secretly talking to Kate Middleton. The story states that the Queen has asked Middleton to reach out to Prince Harry and 'plead with him to stop his wife, Meghan Markle, from doing further damage to the crown.'
The tabloid's story further states that due to the tell-all interview with Oprah Winfrey, it has 'left the royals blindsided and scrambling', due to which Middleton is now 'prepared to fly to California' to confront Prince Harry, appealing him see how he is damaging his family. Debunking the bogus report, Gossip Cop reveals that the photo used by New Idea is from Christmas 2013, the time when Prince Harry wasn't even dating her. The portal then says that Middleton will not travel to LA during the ongoing pandemic and states that she is still in the United Kingdom with her family.
Meanwhile, Meghan Markle is pregnant and gearing to embrace motherhood one more time. As per PEOPLE, a spokesperson confirmed that Archie is going to be a big brother and the former Duke and Duchess of Sussex are overjoyed to be expecting their second child. A photograph of the couple with Meghan flaunting her baby bump made its way to the internet which was shot by Misan Harriman who even shared the picture on Twitter.
She wrote, "Meg, I was there at your wedding to witness this love story begin, and my friend, I am honoured to capture it grow. Congratulations to The Duke and Duchess of Sussex on this joyous news!"
Image source: Instagram/ theroyalfamily