Kendall Jenner Hits Back At 'Disrespectful' And 'Inappropriate' Dress Worn At BFF Lauren Perez's Wedding, Says She Had Bride's Permission
Kendall Jenner caused a huge stir on the internet after she wore a black dress with big cuts across her body for Lauren Perez's wedding reception.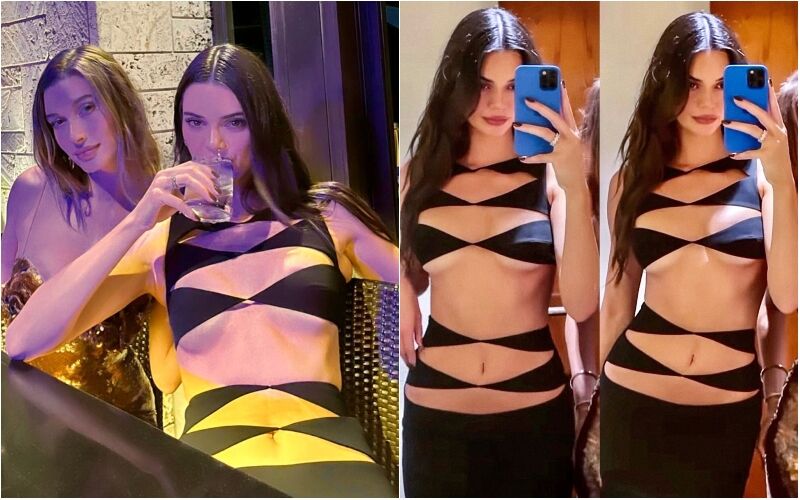 Internet Sensation, Kendall Jenner has finally responded to the claims that she "upstaged" the bride at her best friend - Lauren Perez's wedding reception by wearing an extreme cutaway dress. Taking to Instagram, Perez posted a snap of Jenner and her other friends including supermodel Bella Hadid, however, many users seem upset with Jenner's ensemble choice.

The supermodel was a bridesmaid for Lauren Perez and while Jenner wore a traditional blue strapless gown for the ceremony, she caused a huge stir on social media by wearing a black dress from Monot's SS22 collection with big cuts across her body, showing her bare midriff for the reception.
She published her Instagram stories, where she posed for mirror selfies with Hailey Bieber and friends.
Well, Kendall did not intend on holding back her side of the story. A comment read: "Inappropriate outfit at a wedding @kendalljenner I'm embarrassed for you," adding "#cringe," while addressing the same to the supermodel.
According to one person, "If anyone showed up to my wedding in the dress that Kendall Jenner wore, I would personally hire security and have them escorted out. The audacity to do that to the bride and a groom."
"@KendallJenner I'd rather you turn up to my wedding in a wedding dress than this," another added. "I'm sorry but the dress Kendall Jenner wore to a wedding is not appropriate at all … [you] don't show up to someone's wedding pretty much naked … The attention is supposed to be on the bride and the groom," yet another person added.
The Keeping Up With The Kardashians alum responded to the comment and said, "@laurenperez obvi asked for your approval in advance too," while thanking her friend for tying the knot with a beach wedding!

In the recently released pictures, Kendall and her other friends had a blast during the wedding. Perez shared the photos with the caption, "The greatest night of 2021! Happy New Year everyone!!!"
Meanwhile, fans took to the comments section to appreciate Kendall, Bella, their friends along with the bride and the groom.
Image Source: Instagram/kendallsclip