Khloé Kardashian Faces Backlash For Her RUDE Behaviour With Photographer At Paris Fashion Week! Fans Are In Disbelieve-DETAILS BELOW
Kylie Jenner posed alongside her elder sister Khloé Kardashian while both fashioned Balenciaga looks during their latest outing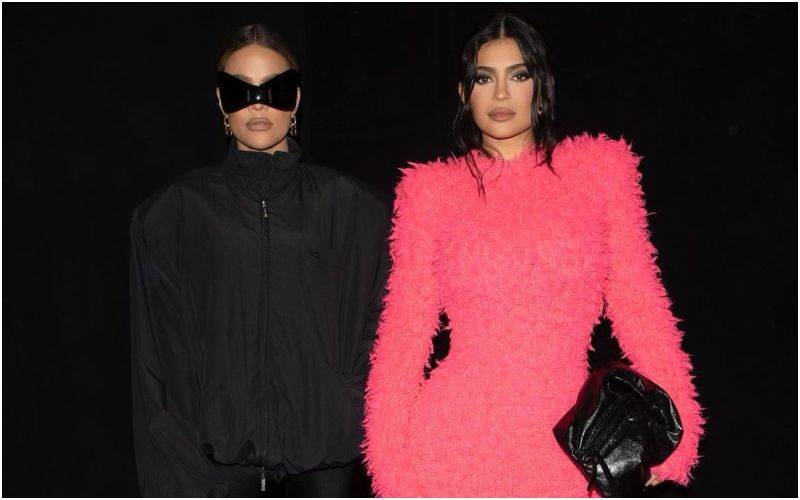 American reality TV star, Khloé Kardashian spent a wild weekend in Paris, France with sister Kylie Jenner following a show at the Paris Fashion Week (PFW). However, the aftermath of her 'wild' night has seemingly turned devastating as she invited brutal flak from the netizens as the 'Good American' CEO was caught on camera making a harsh remark to a paparazzi over the weekend suggesting that she has a quick temper when it comes to clicking her pictures.

Meanwhile, Kylie posed alongside her elder sister Khloé while both fashioned Balenciaga looks during their latest outing.
Khloé Kardashian styled an all-black ensemble, including an oversized jacket, skinny tights with a metallic finish, pointed-toe boots and slicked back her blonde hair. She even sported a pair of substantial black bug-eye sunglasses. Meanwhile, Kylie was seen sizzling in a pink long-sleeved gown.
As the sister-duo posed for pictures, Khloé abruptly responded with a 'No' when a photographer asked her to drop her spectacles so that they could have a better look at what she was wearing.
Supporting her elder sister, Kylie affirmed that her sister would not take down the shades as she turned to her right. While the entire scenario was captured on video, it has been going viral over the internet and some were even shocked by the 38-year-old's remarks and took to Reddit to label her 'rude' over the viral conversation, as reported by the US Sun.
The shocking incident occurred following their appearance at the Paris for fashion week, and the two of them had a fun time partying after the runway presentations were over. The two flaunted their curvaceous body in figure-hugging dresses.
Image Source: Instagram