Khloé Kardashian Flaunts Her Underboob And Nipples In A Sexy Metallic Bodycon Dress With Cut-Out Detailing; Leaves Fans Gasping For Breath, Literally! SEE PICS
Khloé Kardashian flaunted her busty assets through the cut-out as the side of her one boob was quite visible while one side of the dress had a full sleeve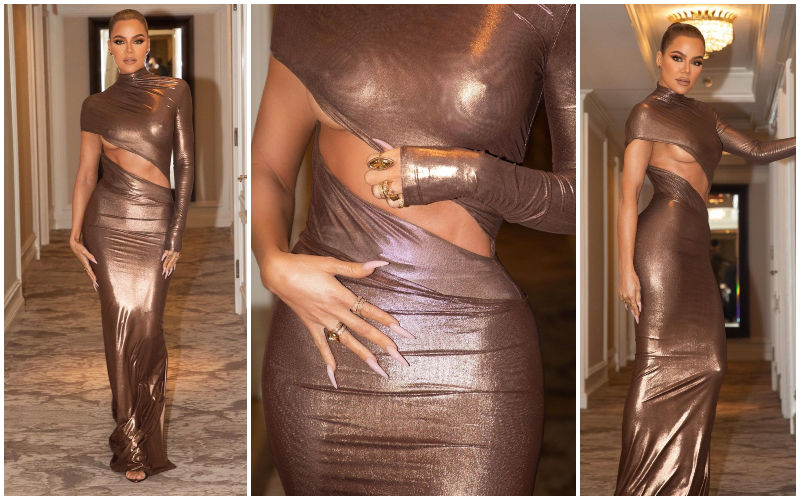 The Kardashians were recently seen attending the CFDA award night which was hosted by the Council Of Fashion Designers of America. The entire family was seen putting on their best fashion foot forward for their latest appearance, however, it was Khloé Kardashian who stole the show and she looked nothing less than a fashion goddess as she dazzled in her metallic bodycon dress.

Khloé Kardashian who is one of the most fashionable personalities made sure to skip the heartbeat with her sartorial choices. She is quite popular when it comes to her bold pics and unique colour combination outfits often become the topic of discussion among fashion connoisseurs.
For her latest appearance, Khloé opted for a half high-neck collared golden metallic-bronze coloured latex-finished bodycon dress. It also featured a long trail and cut-out detailing.
Interestingly, Khloé even flaunted her busty assets through the cut-out as the side of her one b**b was quite visible while one side of the dress had a full sleeve.
The Keeping Up With The Kardashians alum opted for a neat and sleek high bun. She completed her look with a tanned foundation, cut-crease contour, blushed cheeks, black smokey eyes with a soft winged finish, false lashes, and light brown matte lip shade.
With her stunning outfit, she even flaunted her nipples like a pro.
Clearly, Khloé Kardashian stole the on the white carpet, literally!
The Kardashians and Jenners came along at the CFDA Fashion Awards in part to support Kim Kardashian and her brand SKIMS, which won the Innovation Award. Kim accepted the award from Kris Jenner's friend Martha Stewart, and called out size equality and diversity in her speech, saying, "We have put a strong emphasis since our launch on continuing to shape the industry to embrace size equality and diversity as a fixture and not just a trend and I see so many of you are doing just that," as reported by Cosmopolitan.
Image Source: Instagram