Kim Kardashian Brutally Trolled For Her 'REPETITIVE' Fashion; But Netizens Are Impressed With Her Daughter: 'North Dresses Better Than Kim!'
Kim Kardashian was snapped in Paris making an appearance at Paris Fashion Week and she was also joined by her and Kanye West's daughter North West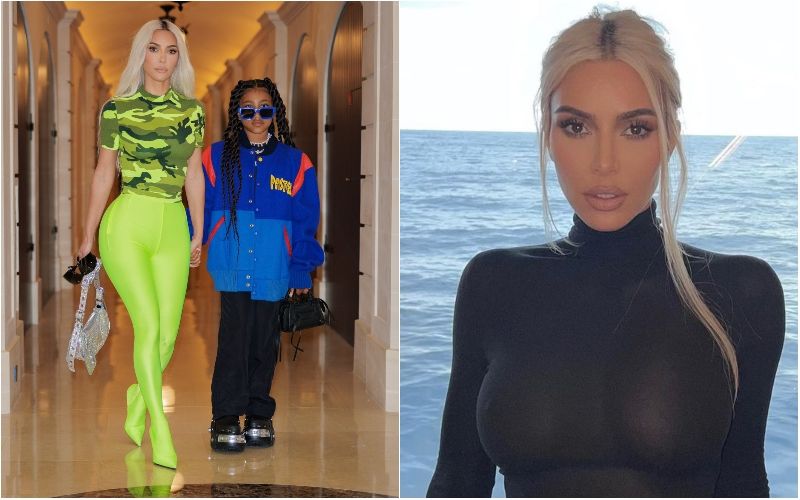 The words backlash or criticism have seemingly become synonyms with Kim Kardashian and she doesn't give two hoots about it. Being one of the most popular fashion influencers and a socialite across the globe, Kim has yet again made it to the spotlight for her unusually bizarre outfit.

The 41-year-old fashionista was snapped in Paris making an appearance at Paris Fashion Week. Kim was joined by her and Kanye West's daughter, North West. Interestingly, the mother-daughter duo have grabbed a lot of eyeballs for their contrasting outing in Paris.
There's no denying Kim received fashion notes from Kanye, with the latter being out of the equation and away from her, the 41-year-old socialite has seemingly lost her touch and netizens believe that Kim Kardashian's style is repetitive.
Well, it doesn't take time for such discussions to spread across the fashion world and amongst the followers.
Kim was brutally trolled for her camo look, while some took a dig at her saying that Kanye would have stopped styling her. On the other hand, Kim's blonde hairdo also received sharp criticism.
However, netizens were pretty impressed with North's style and found her to be a replica of her dad. They went on to praise her for stepping into her father's shoes and some even pointed out that North dresses better than Kim.
Well, that blow's gonna leave a mark.
Speaking of Kim and Kanye, the two first met in 2002-2003 following which they featured together in a Star Wars-themed video in 2008.
However, Kim went in a different direction and married Kris Humphries. They eventually divorced and Kim and Kanye started dating. Late, they welcomed a daughter North West in 2013.
Soon after that Kanye proposed to Kim in a dramatic style in a stadium with a Jumbotron message saying, "Pleeease marry meee!!!" There was also a live orchestra. They got married in 2014.
In 2015, they welcomed a son Saint. In 2018, they welcomed a Chicago. In 2019, Psalm was born via surrogacy. In 2020, after Kanye decided to run for Prez, and things started to fall apart. In 2021, they both got divorced.
Image Source: Twitter/@thehapablonde