Kim Kardashian Confirms Dating Drake? Choses 'Treacherous Twins' As Background Score For TikTok On Skincare Routine-DETAILS BELOW
Kim Kardashian including the Drake song has sparked debate amongst the fans as it felt like a nod to the rumours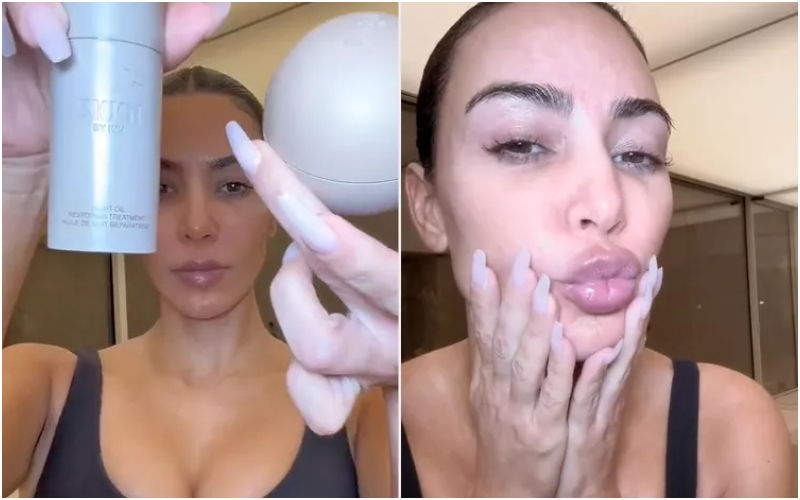 Kim Kardashian knows how to make it to the headlines. The fashion mogul once again had the internet buzzing as she posted a TikTok on Wednesday which featured her skincare routine.

As per People magazine, the video stars with a make-up free Kim showcasing her multi-step skincare routine, complete with new Skkn by Kim products. However, it was the background score that intrigued her viewers. For the music, Kim chose: "Treacherous Twins" by Drake and Savage.
The song, which was released in November, features a line many speculate is about Kardashian: "F--- what they say, five hundrеd million out the face, feel like K.K."
Meanwhile, the inclusion of the Drake song has sparked debate amongst the fans as it seemingly felt like a nod to the rumours that ran rampant in 2018 that the two previously dated.
"Never happened. End of story," Kim Kardashian wrote in a story on Instagram in response to a video shared by The Shade Room in which DJ Akademiks and Nick Cannon speculated that the pair's past relationship was the source of a feud between Drake and Kanye West.
Fans have long speculated that the KKW Beauty mogul is the Kiki named in Drake's popular song 'In My Feelings' as she has long gone by that nickname.
In the video, Kardashian — who appears to be rocking a Skims tank bra — washes her face and applies several different serums and lotions from her Skkn by Kim line including her cleanser, vitamin C8 serum, eye cream, and a couple other products before wrapping up with a kiss for the camera, reported People magazine.
Towards the end of the TikTok, her son Saint makes an appearance, with a huge smile on his face.
Image Source: Instagram