Kim Kardashian Faces FLAK For Photoshopping Carpet In Her Latest Pic With Pete Davidson; Netizens Say She Is 'Addicted To Editing'!
Social Media user-posted comparison pictures of Kim Kardashian being trolled for photoshopping her latest picture with Pete Davidson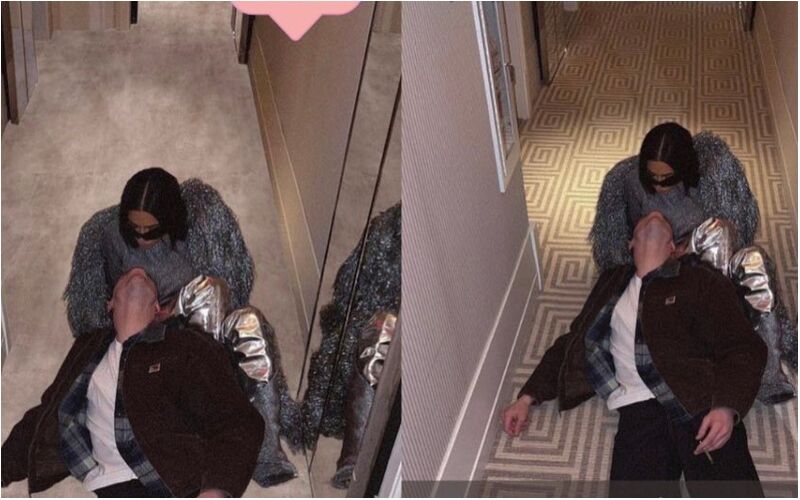 Kim Kardashian and her photoshop shenanigans seem to have no end and fans have yet again called her out for editing a picture that she shared on social media. There's no denying Kim often seeks perfection when it comes to showing-off aesthetic appeal in the pictures.

The latest edited picture she shared was her relationship announcement with Pete Davidson, which she shared on Friday, March 11. In no time fans noticed the odd discrepancy between the photos she shared to Twitter and Instagram, shortly after the reality star went Instagram official with the 'SNL' star.
The obvious outcome of sharing the edited picture was Kim being trolled.
Many social media users posted the Twitter and Insta pics with side-by-side comparisons and pointed out that the carpet beneath Kim in both pics was clearly photoshopped.
In a now-deleted Twitter post, the carpet had a geometric design while the carpet appeared to be solid grey in the Instagram pic. The Skims founder has since deleted the Twitter post, but not before it was screenshotted.
One puzzled Instagram user posting collage of two different versions Kim shared on Insta and Twitter wrote, "I genuinely do not know why Kim edited the carpet. Does anyone else know or care to take a guess?." "All for the aesthetic", wrote one user commenting on the thread. A second user wondered, "Who sits on the carpet in a hotel room though?!."
A third added, "Because like most influencers they edit for more white space, or photoshop colors in to keep the page 'on theme' and feed 'clean."' A fourth wrote, "Addiction to editing has her editing the floors now." A sixth added, " They even got the reflection on the FIRE EXTINGUISHER glass front to match. And shadows are perfect. This is masterful."
The debate about whether the carpet was photoshopped or not soon went to Twitter. One user wrote, "Someone please investigate; I need answers!! How does the repost have a wider picture w/ more of Pete's legs, and how did the carpet change? Did they pose for this twice? What's the story here? Why are people not talking about this? I feel like I'm going insane!."
Another asked, "Did Kim K change the carpet in that picture so it wouldn't look like a cheap hotel or???. A third user confirmed, "Kim k photoshopped the carpet she was on." A fourth wrote, "Omg who cares if Kim K changed the carpet?!?!! Leave her alone."
Image Source: Instagram