Kim Kardashian Flaunts Her Figure In Sensual Bodysuit, Claims It To Be Ideal For 'Sexy Time Or Cute Date Night'
Kim Kardashian advertised her Skims shapewear company by displaying her outstanding figure in a sensual bodysuit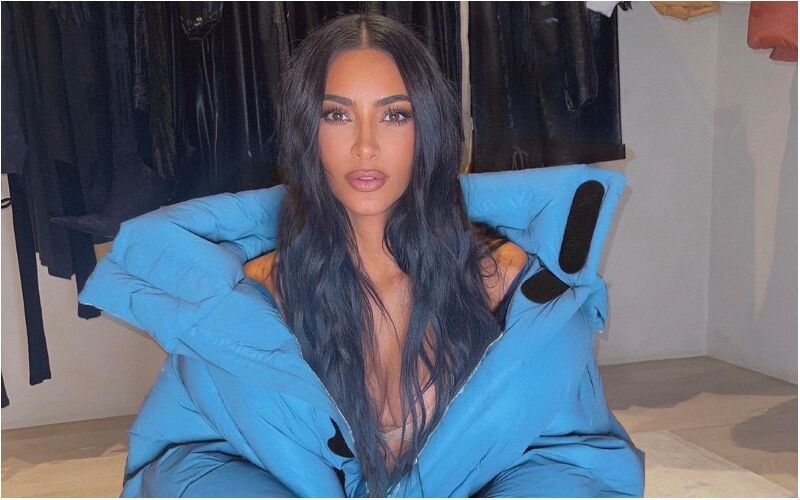 Kim Kardashian's whirlwind romance with Pete Davidson has witness constant evolution and the couple continue to stand by each other through thick and thin. The two are often seen stepping out for dates and her sensual and elegant outfits catch eyeballs.

Taking to Instagram, and she was recently seen advertising her Skims shapewear company by displaying her outstanding figure in a sensual bodysuit. The fashion mogul looked stunning in a beautiful sheer black catsuit that accentuated her gorgeous curves and drew emphasis to her slender waist.
The 41-year-old reality star pointed out that the coquettish bodysuit is ideal for a "sexy time or a cute date night."
She began the video by posing in front of a mirror inside her large wardrobe, wearing the appealing dress - which reportedly retails for $98 - without any accessories. The actress then drew her hair forward to hide her chest, as she must have realized the costume was showing a lot of skin. "But like for this bodysuit, I would just put on like my Balenciaga faux fur jacket, glasses, the boots, and have some sexy time, or a cute date night, "Kanye West's ex-wife stated.
"This power mesh black bodysuit has got to be one of my favorites. I put boots on with it. But this completely snatches. Like I can't even begin to tell you," the KUWTK star said. "This is probably my favorite, favorite Skims piece. It's like a full snatch in a bodysuit," the Kardashians added.
The Kardashian star also added tips on how to style the bodysuit.
"You can totally wear it with a coat over. Cause you definitely don't want to wear it this sheer," she said, tossing on her overcoat and posing for the camera.
The 'Kardashian' beauty had her lengthy tresses parted in the center and falling over her shoulders in the video.
Earlier, Kim revealed what she and her boyfriend Pete did on their date evenings, especially in the SNL star's native Staten Island.
Image Source: Instagram