Kim Kardashian Invites Flak For Talking About Losing 'Water Weight' Through Sweating! Doctor Breaks Myths!
Kim is often called out for maintaining an unhealthy body image after it was revealed that she had lost 16 lbs (7 kg) in three weeks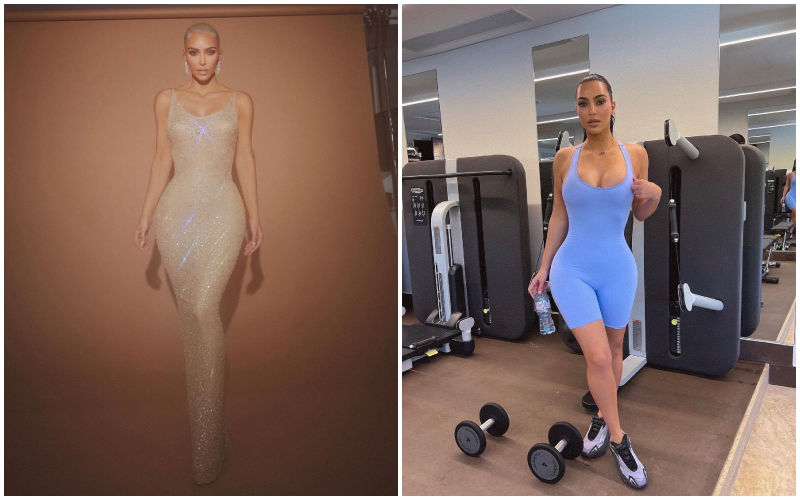 The infamous Kardashian-Jenner clan has often sparked controversies owing to their unrealistic beauty standards and body ideals that have consumed so many women today. However, it does not seem too late yet!

In recent times, netizens have to seem learnt it the hard way and they are now slamming them for their apparent obsession with weight loss as it was evidently seen on their new show 'The Kardashians'.
A recent Buzzfeed report detailed the fact fans are not pleased with Khloé Kardashian choosing to have a 'gleeful' reaction to being called "really skinny" by her sisters. Apparently, Kendall Jenner has shown concerns about her sister's weight loss, but Khloé was purportedly jubilant to learn that her new body has become this apparent.
Well, she isn't the only Kardashian who has received flak for obsessing over her weight. Kim Kardashian also made it to the headline for her Met Gala 2022 look, especially after she admitted having lost some weight to fit into the iconic Marilyn Monroe dress that she wore in 1962 to sing 'Happy Birthday' to former US President JF Kennedy.

Kim is often called out for maintaining an unhealthy body image after it was revealed that she had lost 16 lbs (7 kg) in three weeks to fit into the dress.
In one of the episodes of The Kardashains, the mother-of-four was seen labouring to wear the dress, working out on a treadmill in a sweat suit and informing the camera, "I have this sauna suit, and I put it on, and it makes you just sweat. Even if it is water weight, it'll help."
While it might seem weird, water weight is a real thing, but it is not what the SKIMS founder has made it out to be.
However, a recent Indian Express report quoted Dr Bikky Chaurasia, a consultant of internal medicine at Kokilaben Dhirubhai Ambani Hospital Mumbai, revealing the truth as to what water weight refers to. He said, that water weight refers to extra water in the body or water retention in the body, which is medically termed as 'edema' when it affects certain body parts, and 'anasarca' if it affects the entire body.
"Patients suffering from kidney or heart diseases often experience edema of the feet. Edema of the face occurs due to allergic reactions to certain drugs, and is sometimes also seen as a side effect of kidney diseases. Thyroid patients, office workers on their feet all day and patients who are allergic to certain drugs often complain of lower-leg edema," the doctor said.
Image Source: Instagram