Kim Kardashian-Kanye West's Daughter North Dresses Up As Her Dad! Netizens Are Weirded Out Over New Video-READ BELOW
Kim Kardashian and North share a TikTok account and their posts often go viral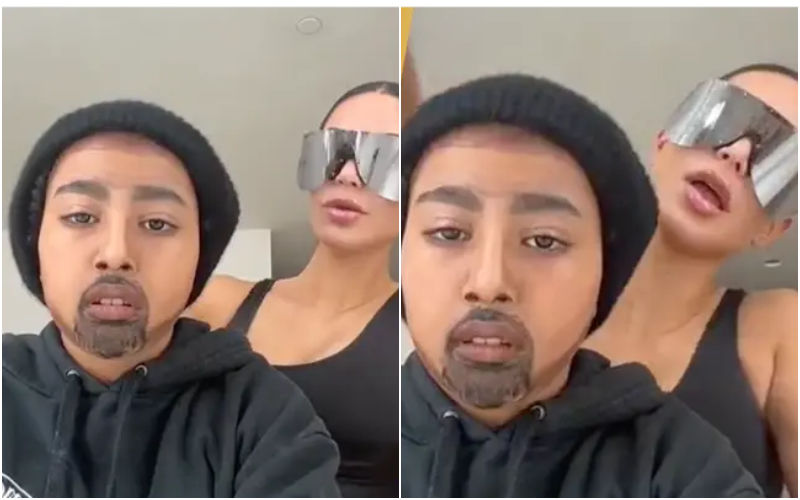 Kim Kardashian's eldest daughter North West's latest post on TikTok featured her dressing up as her father Kanye West. However, fans were taken aback by the new video and many seem to be weirded out by the same.

The mother-daughter duo share an account on the application and their posts often go viral. But things turn a bit strange when they decided to dress up North as her dad Kanye West.
The short clip saw Kim and North dance to Kanye's 2013 song 'Boujnd 2', which has been doing rounds on TikTok. The little West was seen sporting a black beanie hat, eyebrows and a beard drawn on, and contoured her nose and forehead to appear more like her dad.
The mother-daughter duo turned off the comments on their TikTok video to avoid any trolling. However, their latest video has finally managed to find its space to Twitter and many commented to their heart's content.
"Lol this made me so uncomfortable", wrote one uneasy Twitter user, after catching the reshared video. "This is disturbing", commented a second. "Kim and Kanye were f***ing in the music video of this song. This is so f***ing weird bro", complained a third.

A fourth asked: "Am I the only one who find this idk…. Weird?????" Others disagreed, and really enjoyed seeing Kim create these sorts of videos with her daughter. "I like this side of Kim", posted one fan. "NAHH THIS IS HILARIOUS", raved a second.
Well, the comments also referred how Kim's latest move (to dress her daughter as Kanye West) was a bit weird owing to all the controversies he has landed in. Interestingly, a section of fans were surprised how North looked like a spitting image of her father when she was all dressed up. "Bro she looks just like him i'm CRYING", tweeted one fan.
"This TikTok is really cringe but g**damn she's his clone", pointed out a second. "Nahh, she definitely her fathers daughter", wrote a third.
This is the second time in a week that Kim and North's TikTok account has made headlines after the pair unexpectedly posted a dance to Taylor Swift's hit song 'Shake It Off'.
Image Source: Instagram