Kim Kardashian Reveals Pete Davidson Got Her Name Branded With Hot Iron, 'Like A Scar'!
Kim Kardashian spoke about her new romance with Pete during her latest appearance at 'The Ellen DeGeneres Show'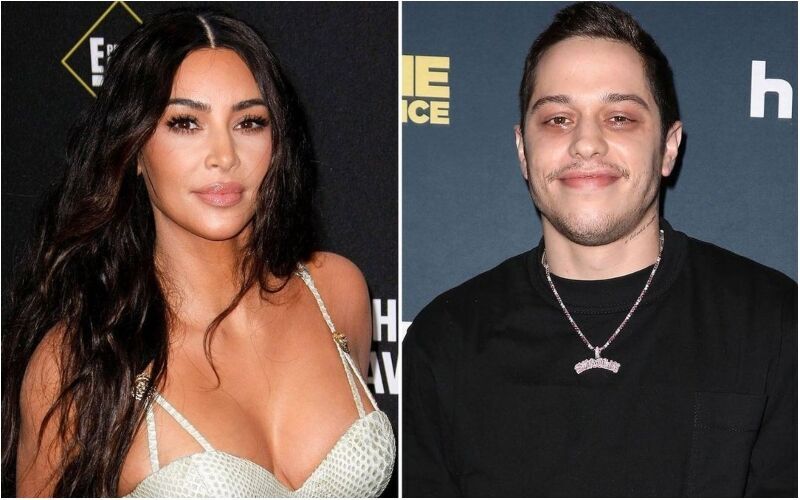 Kim Kardashian and Pete Davidson's roaring romance has taken an interesting turn as the Saturday Night Live fame has etched his ladylove's name branded onto his chest with hot iron.

The 41-year-old reality star spoke about her new romance with Pete during her latest appearance at 'The Ellen DeGeneres Show' while promoting her family's upcoming show, 'The Kardashians' on Wednesday, March 16.
The talk show host, Ellen DeGeneres asked the SKIMS founder about Pete's new body art after the reality star fans noticed her name on his chest in a selfie he sent to Kim's ex-husband Kanye West.
Kim revealed her name was not in ink but had been burned onto the comedian's skin "like a scar." Kim explained: "He [Pete] is in the process of getting rid of his arm tats and his neck tats. So he's like, 'I don't want to be able to get rid of it or cover it up and I just wanted it there as like a scar on me."'
Kim who has been dating Pete for five months now, already has more than three tattoos inspired by her. 'The Kardashians' fame shared that one of the tattoos read, "My girl is a lawyer" as the reality star is currently studying law, in the hope of passing the bar like her father late Robert Kardashian.
The SKIMS founder also spoke about going Instagram official with Pete. "I guess it's not official until you post," Kim joked.
Kim told Ellen, "I have the cutest pictures of us, and I want to be like, 'Oh, my God, we're so cute,' but then I'm like, 'Don't be so desperate. Don't be posting so much, just give a glimpse.'" The reality star speaking about going insta official with Pete admitted, "I don't know what the right thing to do is. I haven't dated since before Instagram existed, so I don't know what the rules are." Kim added that it "feels good" to be in love again.
She said, "I think it's just in life, like no matter what it is, I encourage my friends and the people that I love just to be happy." Kim added, "And I went for it, and, you know what? I'm in my 40s, like, f***k it — sorry — just go for it, find your happiness." The reality star pointed out that she "took her time" before entering a new relationship after filing for divorce from Kanye. Kim said, "I went for it, and I took my time, and I found it, and it feels so good and I want to hold onto that forever."
Meanwhile, fans have been divided with the new romance that has been brewing between them.
One user wrote, "Pete Davidson has a tattoo that says "My girl is a lawyer". Yall What's stopping you from doing this? This is literally so cute !!!". In contrast, a second user tweeted: "Kim reveals Pete got several tattoos of her & even got her name branded & folks are gonna think this is so cute when it's actually weird as hell especially since they only been dating a few months & she got divorced 2 weeks ago lmaoo".
A third added, "Kanye is one late night rant away from calling out how Ellen's set resembles Epstein's island after this. Did you see where he called out Pete Davidson for his HRC tattoo? Pete's dad died in 9/11. Doesn't that feel so curious? So scripted?." A fourth wrote, "Pete Davidson really gotta tattoo of every girl he ever dated I'm dead." A fifth remarked, "Side note— Pete Davidson getting 3 Kim tattoos and branding her name on him are slightly more crazy than Kanye's Kim meltdowns."
Image Source: Instagram