Kim Kardashian Turns Heads As She Poses In Madonna's Dress At Paris Fashion Week With Daughter North West!
Kim Kardashian was seen posing at Paris Fashion Week in a Madonna dress alongside her daughter North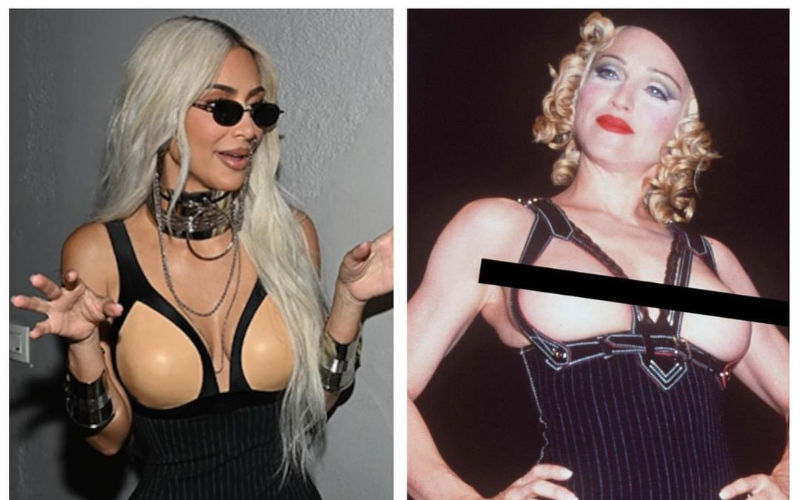 Kim Kardashian has seemingly decided to get on people's nerves and cause a riot.

As if the controversies around Marilyn Monroe and permanently damaging her iconic "Happy Birthday Mr President" dress weren't enough, Kim might have decided to enrage Madonna fans.
Well, reality TV star seems to be on a spree to try out all the iconic outfits in the history of the fashion industry.
The mother and daughter duo - Kim and North stirred the internet, as several pictures of her walking up the stone steps of central Paris' Gaultier HQ - dressed in the image of Madonna when she controversially appeared — with exposed breasts — with Jean Paul Gaultier at a 1992 amfAR fundraiser in Los Angeles, California - went viral on social media.
Kim's styling was reported to be flawless in this tribute as she channelled the pinstriped Gaultier dress that at the time spawned headlines around the world.
Meanwhile, Kim's daughter North wore a waistcoat like a couturier did as he held hands with his then-best friend, for whom he designed several garments including the conical bra look for the singer's Blond Ambition tour.
Kim Kardashian's mother Kris Jenner came in a black pantsuit with power shoulders worn over a white and blue striped tee.
Earlier, Kim was seen wearing Marilyn Monroe's iconic 60-year-old heritage crystals-embedded body-hugging outfit at the MET Gala 2022. She donned the $4.8m crystal-covered nude silk gown to walk down the red carpet at the event in early May.
However, in no time, Kim was targeted with unwavering backlash as several reports suggested that the dress was permanently damaged. However, a rep for rep for Ripley's 'Believe It or Not!' (where the dress is kept) claimed that she did not cause any damage to the gown.
Image Source: madonna_a_retrospective