Kourtney Kardashian Faces Backlash For Her Parenting Style As She Allows Daughter Penelope, To Promote Kylie's Makeup!
Penelope shared a video of her flaunting Kylie's Valentine's Day makeup collection via Kourtney's account.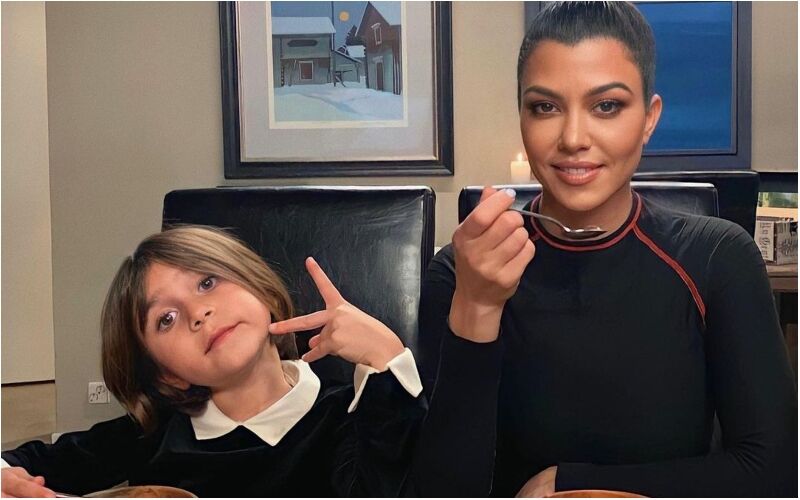 Kourtney Kardashian has seemingly landed in trouble for her parenting style. Fans slammed the 'Keeping Up with the Kardashians' alum for letting her nine-year-old daughter Penelope use make-up from Kylie Jenner's Valentine's Day collection.

Penelope, who is a preteen now, is famously known for her expensive tastes and extravagant lifestyle which mom Kourtney does not seem to be limiting, according to fans.
Taking to TikTok, Penelope shared a video of her flaunting Kylie's Valentine's Day makeup collection via Kourtney's account. The nine-year-old showed off all the products in the line, which included lip glosses, eyeshadow palettes, and other make-up essentials under the bright afternoon sun.
Penelope captioned the video "Go get your Kylie cosmetics Valentine makeup," which was set to Ariana Grande music.
The video has garnered over 160K likes and fans have posted varied reactions to the video.
Netizens took to Reddit to question why a nine-year-old was promoting Kylie's makeup online. Some Redditors came to the tween's defence and replied that she was just a child promoting her aunt's products online. Some even commented saying that Penelope was not seen using the products on herself in the TikTok video.
"I think she's too young to wear makeup, but clearly, we have seen her wearing it out and about," a fan commented under the video. "This is geared as an advertisement, especially with her caption. Paid or not, it's still a promo, and the girl is nine," another fan added, with a third chiming in saying, "Penelope is nine, it's weird to see her 'influencing.'" In contrast, a fan wrote, "Why not? It's her aunt's makeup," and another user agreed, "She's allowed to hype it up."
Incidentally, this is not the first time that fans have been critical of Kourtney parenting style. She was previously slammed for being a 'bad mother' to Penelope.
Fans had earlier slammed the Kardashian sister for dressing Penelope up in a 'skimpy Clueless costume' for Halloween. Kourtney shared two photos of Penelope wearing Cher's iconic yellow blazer and skirt and captioned them with the character's catchphrase, "As if."
Many opined that Penelope was a tad too young to be wearing a miniskirt, heels, and a blonde wig and dressing up as Alicia Silverstone's character Cher.
Image Source: Instagram/kourtneyksassy