Kourtney Kardashian Fans Relieved As Her And Ex-boyfriend Scott Disick's Son Mason Attended Her Italian Wedding To Travis Barker
Kourtney Kardashian and Travis Braker exchanged vows surrounded by red roses and loved ones, including their six total children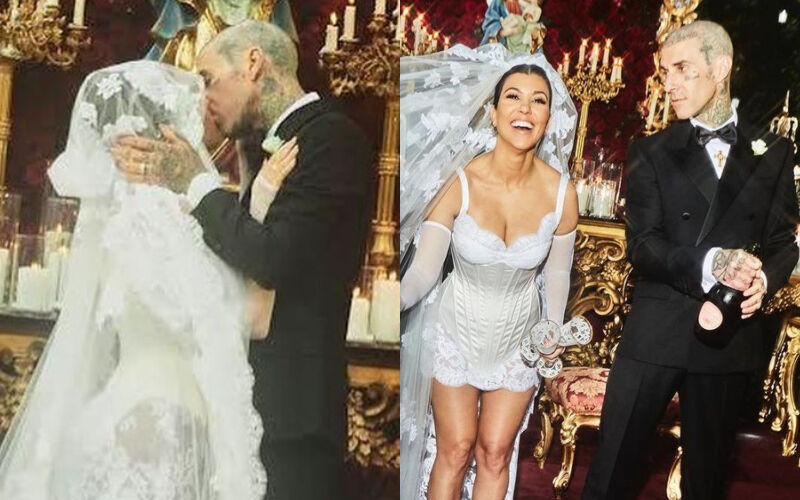 Kourtney Kardashian got married to Travis Barker for the 'third time' in a lavish Italian wedding on Sunday. The reality star even gave a glimpse of her fairytale of a wedding and the wedding ceremony also saw the attendance of Kris Jenner, and her siblings, Kim Kardashian, Khloe Kardashian, Kendall Jenner and Kylie Jenner.

Interestingly, the pair exchanged vows surrounded by red roses and loved ones, including their six total children: Kourtney`s sons Mason and Reign and daughter Penelope, along with Travis` son Landon, daughter Alabama and stepdaughter Atiana.
The recent report comes after multiple online speculations around Mason's, 12, appearance at the event sparked over the internet. The eldest son appeared in a photo posted by friend Carl Dawson, who documented the wedding celebrations on his Instagram Stories.
The reality TV star shares Mason with her ex-boyfriend Scott Disick, 42, along with daughter Penelope, nine, and younger son Reign, seven.
Barker's kids, his ex-wife Shanna Moakler were also there, along with his 23-year-old stepdaughter Atiana, whom Moakler shares with boxer Oscar De La Hoya, 49.
A recent DailyMail report suggests that several social media users were relieved to see Mason at the celebration, with influencer Amanda Hirsch reposting his photo from the event and writing: 'Mason is there everyone calm down!'
Before his appearance, many wondered if Kourtney's kids would be at the ceremony, seeing as they were excluded from Barker's romantic proposal in October 2021.

"Tensions were high when Kourtney learned her three kids weren't included in Travis Barker's proposal - but did Mason, Penelope and Reign miss the couple's wedding too?" Us Weekly asked in a Twitter post.

Another Twitter user made a list naming those who had not been seen in any of the wedding photos, writing: "MIA at the Kravis wedding (haven't seen them in any of the pictures)."
Back in April, the newlyweds had gotten married in a "fake" Las Vegas wedding.
Page Six had confirmed the ceremony was just for fun, as they hadn`t obtained a marriage license. "Practice makes perfect," Kourtney had shared an Instagram post the following day with photos.
Image Source: Instagram