Kourtney Kardashian Is Being Controlled By Beau Travis Barker? Fans Claim To Witness Multiple 'Red Flags' In Drummer's Behaviour!
Fans also noted that the fact that Kourtney and Travis, both 43, dress similarly is cause for concern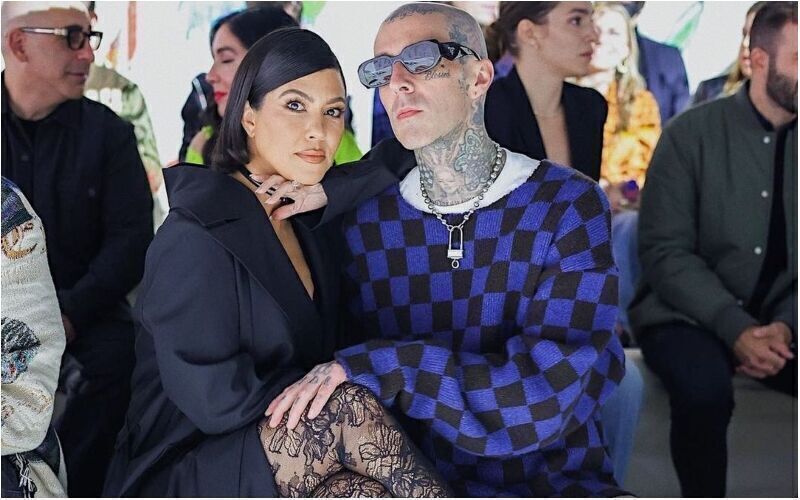 Yet another controversy has embroiled Kourtney Kardashian and Travis Barker's relationship, as their fans have claimed that the drummer is getting "controlling" in their relationship.

In the most recent episode of her new Hulu show, 'The Kardashians', viewers claimed to have seen multiple "red flags" regarding the rocker's behavior.
In the latest episode of 'The Kardashians', viewers got bothered to witness Kourtney "grinding" on Travis in front of a realtor during a property tour.
Travis was seen sitting on a couch in the large garden and motioned for Kourtney to sit on his lap. Kourtney straddled the musician and wrapped her arms over his neck while the realtor stood only yards away. Travis gripped her butt with both hands and fiddled with the buttons on her minidress's front.
Kourtney and Travis, who married earlier this month in Las Vegas, have been chastised for their excessive PDA and for flaunting their sex life on social media.
A user on Reddit wrote, "I don't see Kourtney making her own decisions very much, at least not in his presence... I probably wouldn't have noticed if it didn't seem like he was making several decisions for the both of them. E.g. she voiced that she had wanted to look at houses in Malibu, they end up going where he wanted instead. Travis couldn't accompany Kourtney to SNL because of his son's bday in LA – so Kourtney didn't go. Especially because Scott was going."
Furthermore, the user highlighted the couple's constant PDA as he wrote, "Maybe I'm also just not used to seeing women being treated like a doll; he initiates all the PDA, and no matter how inappropriate it may seem, she complies. & Remember how quickly she got off her seat and sat on his lap, per his request (episode 1)... I personally am getting red flags."
Fans also noted that the fact that Kourtney and Travis, both 43, dress similarly is cause for concern.
A user wrote, "Constant, inappropriate PDA will always be a huge red flag for me. No one will ever change my mind. "The part that makes me cringe is how he idk objectifies her? And is always groping and slapping or touching her a**. Lol seems like a weird thing where he has to show the public she's his. To each their own but it seems a little disrespectful," another added. Another posted, "Now it's about control. The always having a hand on her bothers me like it's HIS."
Image Source: Instagram