Madonna Faces Backlash For Her 'Baby Face Filter' Photos, Fans Call Them 'Creepy As F**k'-SEE PICS!
Madonna turned out to be laughing stock shortly after she posted a new photo featuring her using a baby face filter.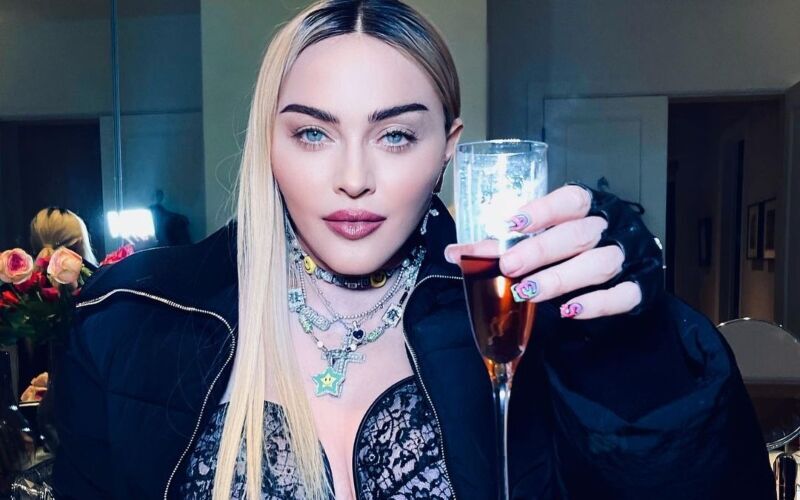 Madonna has yet again landed herself in controversial waters as she was accused of using heavy filters in her pictures to look younger on social media. In a rather shocking turn of events, a troll suggested the singer should 'stop using' the youth filters.

The pop sensation turned out to be laughing stock shortly after she posted a new photo. Fans accused Madonna of using a 'baby face filter' that made her 'look creepy'.
In the post, the 'Open your Heart' singer was wearing a black puffer jacket. She held a glass of wine in her hand and accessorized her look with leather gloves, bracelets and a woollen cap. Madonna captioned her post, "Tryin to Make a Movie……………. It's Really Hard!Wouldn't Have it Any Other Way!"
Well, seems like social media users have no chill.
Shortly after Madonna's new pictures made their way into users' feed, the online critics slammed her for hiding her wrinkles and asked her to age gracefully and not try to hide her reality.
A user @mucdreamer criticized Madonna for using youth filters. He wrote: "Stop using those youth filters." @candixni slammed Madonna of cheating her followers. She wrote: "You're too old delete this." Users also pointed out how her features looked weird in the photo @bribojar said: "Teeth looking STRANGE." Another user @annetucker123 wrote: "Creepy as f**K."
A user praised Madonna for her contribution to the industry but also asked her to stop using such heavy filter. @instaarthur wrote: "You're an icon…you don't need the excessive photoshop retouching…said with love."
Madonna is an avid social media user and she has often landed in controversy for her Instagram posts. Although the songstress continues to remain unfazed by all the criticism she has faced so far. Many have even alleged that she has retouched her photos and it makes them look worse.
Recently, Madonna's posts showing her nipples have been taken down by Instagram for violating the community guidelines against nudity. Madonna has been a victim of reverse photoshop which is used to highlight her reality making her face lines visible.
Madonna has been trolled on the Internet because her pictures don't look real. The online critics highlighted some creative use of the clone tools used to make her body look curvy and weird. The burn tool is used to highlight her wrinkles.
Image Source: Instagram/Madonna