Medical Workers Do The Bhangra To Boost COVID-19 Patients' Spirit; Netizens Salutes The Hospital Staff– VIDEO
We recently stumbled upon a video where all the healthcare workers are seen spreading some positivity as they perform Bhangra on the tunes of a Punjabi song in the hospital to make patients smile and lift their mood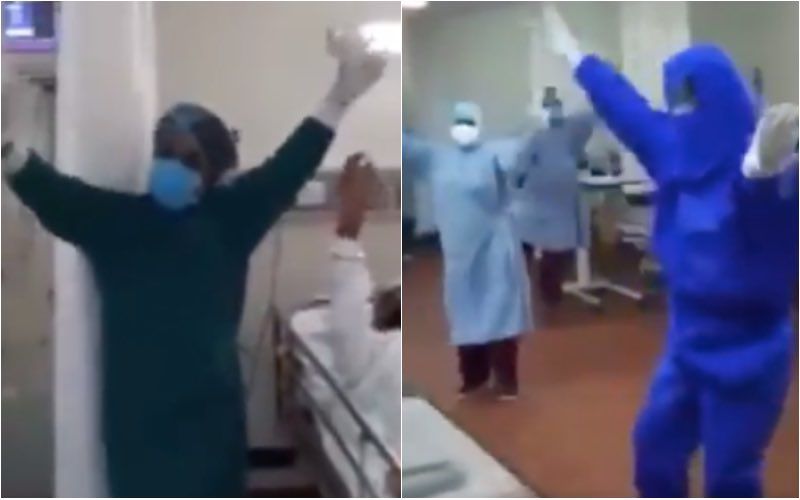 The internet is currently filled with grim news about COVID-19, countless positive cases, how people are severely getting affected by the second wave, how Bollywood celebs are coming together to help people with oxygen cylinders and hospital beds. Amidst all the harsh reality and chaos, the internet saw a soothing and positive video that will also lift your mood. Well, we recently stumbled upon a video where all the healthcare workers are seen spreading some positivity as they played a Punjabi song in the hospital and all the staff along with the COVID-19 patients started doing the Bhangra on the beats of the song.
In the video, some medical staff were seen dancing with their PPE kit on to boost the patients' spirit and morale while they were seen clapping their hands, resting on their beds. Someone recorded this moment and released it online which soon went viral on social media. Netizens were seen praising the frontline warriors for making the COVID + patient's smile and lift their morale when they are at their lowest. A user wrote, "Nice to see the health staff get a energy booster in the form of Bangra... salute to you all frontline warriors...together we will win…" while another one said, "Yes salute to them at same time cursing our system for the failure for hospitals and medicine"
One more user said, "Amazing job, heads off to all health care workers. They can spread more smile and save world with better healthcare system. Folded handsFolded hands @narendramodi @MoHFW_INDIA"
A similar video was seen earlier when a healthcare person was seen grooving and swaying on the tunes of Hrithik Roshan's Ghungroo and people are full of praise for the medical professional.
Image source: Twitter/ connectgurmeet