Meghan Markle's Email To The Palace Aide Asking Them To Rectify Kate Middelton Crying Story REVEALED; Aide Said Kate Wouldn't Comment On Idle Gossip- Reports
After revealing her side of the story, Meghan Markle has been in the centre of the storm. Now her email that she sent to a palace aide has been released where she is requesting them to clarify the Kate Middelton crying story.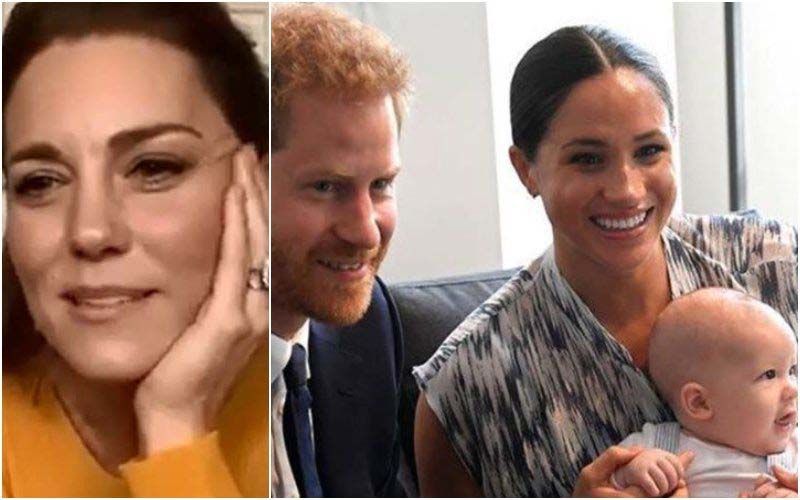 Meghan Markle and Prince Harry have been in the news ever since their 2-hour long interview with Oprah Winfrey aired that had some shocking revelations regarding the Royal Family which they call, The Firm. Apart from talking about how the Royal Family was concerned about the colour of the skin of Meghan and Harry's baby boy, Archie, both also went on to share their personal upheavals they faced in the last 3 years.
One particular event that has been making headlines even now is the other side of the Kate Middelton crying story. Meghan spilt the beans on how the UK tabloids, just days before her wedding, fabricated a story of how she made Kate cry. Markle took Oprah's interview as an opportunity to clear the air and set the record straight.
Meghan while talking to Oprah had clarified that "the reverse happened" and Kate "was upset about the flower girl dresses which made me cry". Meghan did not forget to mention that The duchess Of Cambridge realised her mistake and "brought me flowers and a note" saying she was sorry. This, the palace did not clarify when the UK press went on to put out false stories.
Meghan Markle debunks the reports that she made Kate Middleton cry, saying that it was the other way around:

"The reverse happened. She was upset about something. She owned it and bought me flowers." pic.twitter.com/Saof51RZHS

— Pop Crave (@PopCrave) March 8, 2021
Now, after this startling side of the story, Harper's Bazaar on Wednesday, March 10, printed an email that Meghan sent to the Palace aide linked to the crying incident. According to the portal, Kensington Palace requested that Prince Harry sign a statement against an "offensive" report about his brother, Prince William, which claimed the Duke of Cambridge, "constantly bullied" Harry and Meghan before they announced their royal step back. Post this Meghan shot an email which stated:
"Well, if we're just throwing any statement out there now, then perhaps KP can finally set the record straight about me [not making Kate cry]." Meghan's suggestion was ignored, and she was politely told that Kate wouldn't comment on idle gossip.
Post-Prince Harry & Meghan's interview, Prince William and Kate Middleton were spotted for the first time where Prince William quipped at a reporter who asked if the Royal Family is Racist?. William said, " We are very much not a racists family"
Image source: Instagram/theroyalfamily