Meghan Markle Snubs A Kiss From Prince Harry On Kiss-Cam At NBA Game! Couple's VIDEO Of 'Awkward' Laugh And Giggle Sparks Debate On Internet-WATCH
Meghan Markle appeared to snub a kiss from Prince Harry as the Duke of Sussex leaned in when they were shown on the big screen at a Basketball match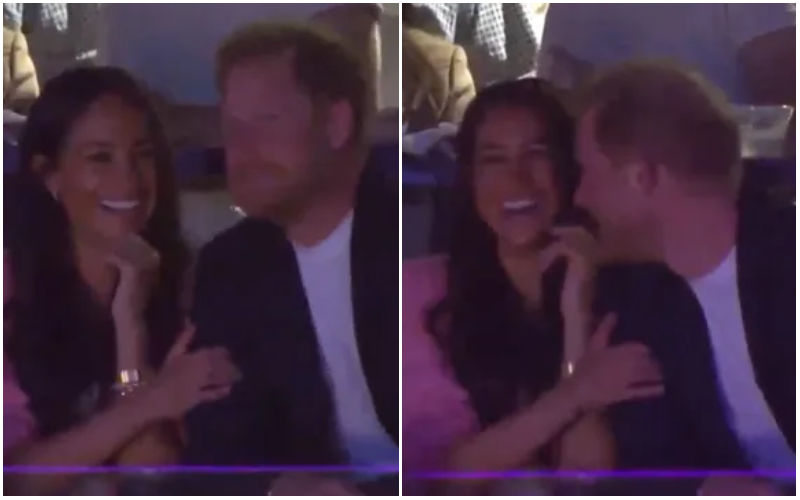 The IT couple Meghan Markle and Prince Harry have once again made it to the headlines and the internet appears to be having a field day trolling them. While the couple is known to have a tumultuous relationship, something seemed off during their latest appearance at a Basketball match in Los Angles.

As per the reports, Meghan Markle appeared to snub a kiss from Prince Harry as the Duke of Sussex leaned in when they were shown on the big screen at a Basketball match.
The Duchess of Sussex burst into laughter when Prince Harry moved towards her and the Duke pulled an awkward facial expression moments later, reported GBNews.
The audience clapped and cheered encouraging them to kiss but, Meghan grabbed her husband's arm instead, making things totally awkward. The couple were reportedly on a date night watching the Los Angeles Lakers beat the Memphis Grizzlies in game four of the playoffs.
Harry and Meghan Markle were seen for the first time after the Duchess released a statement responding to claims she was not going to King Charles's Coronation due to receiving an unsatisfactory response to concerns she raised about "unconscious bias" in the monarchy.
The Duchess of Sussex blasted the report as "ridiculous and false".
A GBNews report quoted Meghan's rep on Saturday, who shared, "The Duchess of Sussex is going about her life in the present, not thinking about correspondence from two years ago related to conversations from four years ago. Any suggestion otherwise is false and frankly ridiculous.
"We encourage tabloid media and various royal correspondents to stop the exhausting circus that they alone are creating."
Image Source: Instagram