Mia Khalifa Flaunts Her Curvy Booty And Golden Ring Desigened to Hold Cannabis Joins! Fans Are In Love With Her Latest Post-WATCH
Mia Khalifa appeared to be getting ready for treatment, lying on a massage table wearing nothing but a skimpy blue thong and a sheet ung over her legs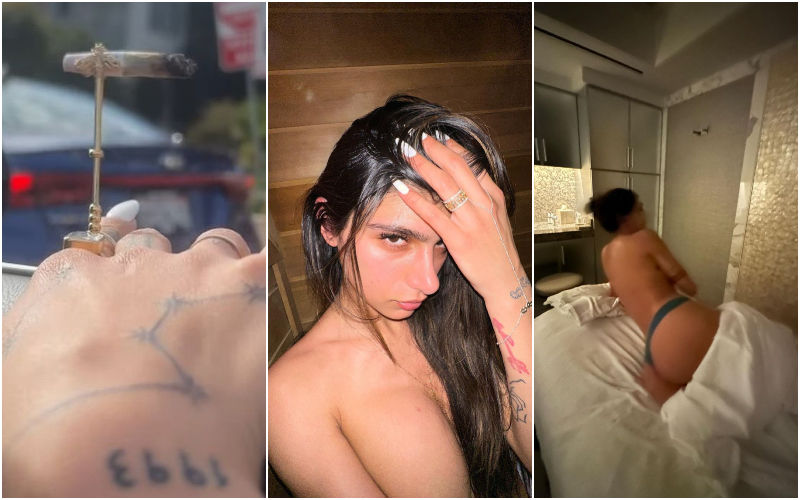 Mia Khalifa can be an absolute pro when it comes to flaunting her assets or giving her fans a glimpse into her fun day. The former Pornhub legend has shown off her booty and a very practical piece of bling - a ring designed to hold joints - while paying Los Angeles a visit in a smoking-hot Instagram post.

Sharing a carousel of images from LA, Mia's caption read: "booty" and "In LA for a day (and a half)". The brunette OnlyFans star shared several snaps of her time in California with her 23 million followers.
One of the snaps showed Mia appearing to be getting ready for a treatment, lying on a massage table wearing nothing but a skimpy blue thong and a sheet slung over her legs.
Another picture showed her facing away from the camera as if she rolled over and exposed her curvaceous booty in all its glory. A picture showed Mia flanting her derriere which was taken from an upper angle and reveals a lot of skin but just a hint of cheek as she posed in what appears to be a sauna or steam room.
In a video clip, the influencer is sitting in the passenger seat of as black convertible that is riding along a neighbourhood street with the top down.
However, it was Mia's flashy ring on the index finger that caught everyone's attention. The ring sat right above her knuckle and it appears to be a simple gold band with a stem several centimetres long extending from the base. The top was detailed with a bee that holds a lit joint, rolled with a roach that has eyes drawn over it.
The video shows Mia casually resting her hand on the car window frame, with the smoking joint hovering above, firmly held in place by the ring, before taking a drag.
As usual, fans are in love with her latest post and a user commented, "Queen is in the building", while another wrote: "I love this woman."
Mia's friend and world-famous model Emily Ratajkowski was clearly impressed by certain snaps as she wrote: "Ok booty."
Image Source: Instagram