Mia Khalifa Shows Off Her Cleavage And Busty Assets As She Vacations At UNKNOWN Location; Shares Breath-Taking Pics From Her Holiday!
Mia Khalifa left her fans gasping for breath as shared some of the most breath-taking pictures from her holiday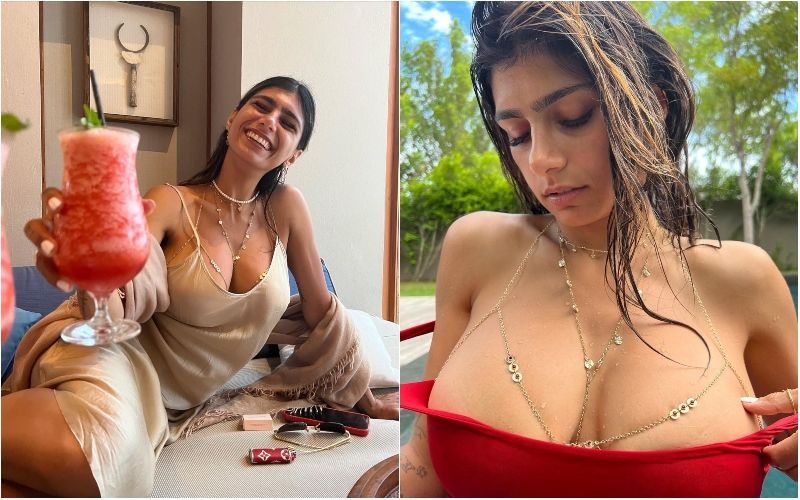 No one can ever get enough of Mia Khalifa… Honestly, even we can't! What About you?

From racy nearly-nude pictures to sizzling in chic and glitzy outfits, the former pornhub sensation always makes the internet go berserk. Now, Mia has once again taken the internet by storm as she shared a few new snaps on her official Instagram handle.
The 29-year-old OnlyFans model left her fans gasping for breath as shared some of the most breath-taking pictures. The latest series of sultry holiday snaps featured her channelling her hotness amid the calmness of nature. Without a doubt, Mia was truly a 'nature girl'.
The former adult film actress has been holidaying across the world, however, it's still unclear what country she is currently enjoying her vacation in at the moment.
However, looking at the recent pictures, her 27.8 million Instagram followers might not be concerned about her current location!
In the first picture, Mia showed off her cleavage and a glimpse of her busty assets as she posed in a red swimsuit. In another picture, she showed off the place she was staying, complete with a maze of pools, perfectly arranged trees and fancy food. In one of the pictures, she can be seen showing off a welcome beverage as she checked in her hotel room.
Later in the series of posts, she accidentally spilt the beverage on the bed and she even shared a gif of the same.
In one snap Mia can be seen smiling while sipping on a drink, wearing a flowing navy blue dress as she relaxes in front of an infinity pool. Wearing the same dress in another, she appears taking a cheeky bathroom selfie and flaunting the villa's ornate interior.
She was also seen posing with her friend - Mercedes Delusive and the 29-year-old Pornhub star even tagged her friend. Mia even shared an aesthetic picture of herself which featured her running on a ramp through a dense forest!
Taking to her Insta stories, Mia was even seen posing in a pink bikini and sunglasses, she captioned the first snap: "Am I still a nature girl if nature comes with a concierge and heated toilet seats."
Apart from sharing stunning pictures and breathtaking clips, Mia also shares her views on women's empowerment and more.
Image Source: Instagram