Mukesh Ambani's Son Anant Donates Silver Utensils Worth Rs 90 Lakhs In Somnath Temple, Worships Famous 51 Golden Kalash Atop Mandir-See PICS
Mukesh Ambani's youngest son Anant Ambani donates silver utensils worth Rs 90 lakhs during his visit to Somnath Temple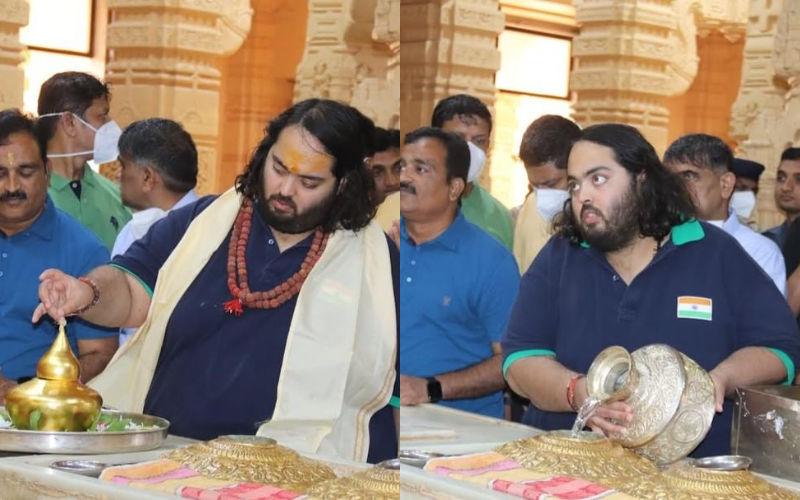 India's billionaire businessman Mukesh Ambani has not only marked his name amongst the richest people in the world but has also spread his wings globally on many levels. There is no denying the fact that Ambani lives a grandeur life which is a dream for many. And Mukesh Ambani's sons indeed are a support system and pillar for the family as they actively take interest in their father's business and are making every possible effort to make it to the top. Besides this, one thing that both the sons have acquired from their fathers is the faith in the almighty which we have seen in many places.
As we speak of this, Mukesh Ambani's youngest son Anant Ambani is also following in his father's footsteps. Recently, Anant paid a visit to Somnath temple in Gujarat to seek blessings from Somnath Mahadev. Several pictures from his visit to the temple have been doing the rounds on social media. In the pictures, one can see Anant performing Puja with the priests with full devotion. Not just that during his visit to the temple Anant also donated Rs. 90 lakhs of silver utensils to the Somnath temple which holds a special place for the Ambanis. He also performed puja of 51 golden kalash atop the Mandir. ALSO READ:
Mukesh Ambani Visits Kerela's Guruvayur Shri Krishna Temple; Becomes First Devotee To Offer Highest Donation Amount Of Rs 1.5 Crore!
Well, this is not the first time when Ambani's have made it to the news for their donations. Earlier this month, business tycoon Mukesh Ambani too visited the famous Tirumala Tirupati temple with Radhika Merchant where he donated 1.50 crores to the holy temple.