Nicki Minaj Reignites Cardi B Feud With New Diss Track - We Go Up; Says 'All Of That Surgery, You Are Still Ugly'
Nicki Minaj's new song is reportedly becoming a favourite amongst the fans owing to its lyrics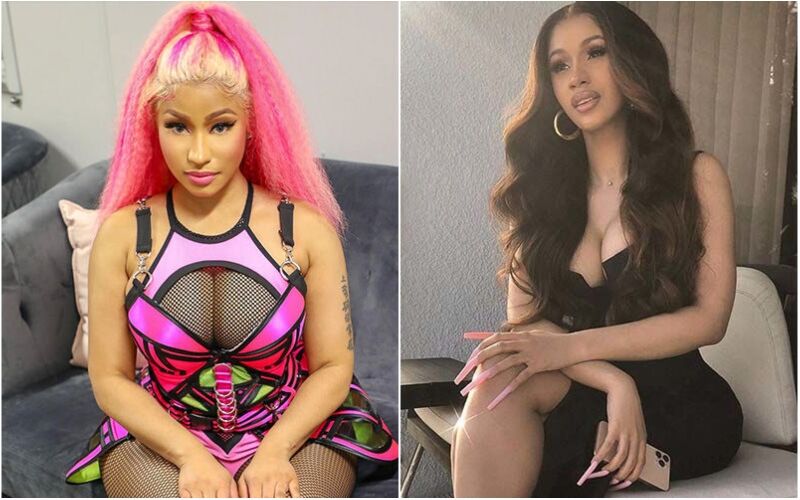 Nicki Minaj seems to have reignited her feud with Cardi B with her latest single titled - 'We Go Up' which also features Fivio Foreign.

However, the song is reportedly becoming a favourite amongst the fans owing to its lyrics: "Sitting in the back of the Benz and my feet go up/ B—hes don't come outside when the beef go up. But I love the way they mob when we roll up/ These b—hes bums, when I see them, they make me throw up."
From the looks of it Nicki Minaj tried to take a dig at Cardi B in the song. In a part of the song, Minaj tried to ridicule a person over their looks as it goes like this: "Let's see/ After all of that surgery, you are still ugly/ And that is what gets me."
Nicki really just told Cardi B she was ugly & wanted to be like her ….😮‍💨😮‍💨😮‍💨😮‍💨😮‍💨😂😂😂😂😂😂

— IM HIM (@THEZAYVO) March 25, 2022
Minaj did not name anyone in her song, although many believe that she tried to diss her nemesis Cardi B, who has undergone a number of plastic surgeries. For the uninitiated, the 29-year-old had even reportedly accepted that she had liposuction and breast augmentation, and she got veneers for her teeth.
In no time, Nicki's savage dig became the point of dicussion on social media as one tweeted: "Nicki really just told Cardi B she was ugly & wanted to be like her …." The second one wrote, "You are getting screwed by nicki Minaj shots fired by your enemy the queen of rap like you shouldn't gotten all that surgery and you wouldn't be so ugly like everyone says especially nicki Minaj."
"Cardi b fans yall fanny sometimes so you guyz thought nick minaj shade cardi that means you guyz have admitted cardi b is ugly😂😂😂😂😂😂 there are so may female artist who have done surgery but you choose cardi😂😂😂," the third one added.
A fan of Cardi B tried to slam Minaj's fans by writing, "You are always so obsessed with saying that Cardi has no talent when the critics acclaim her. I know you wanted to see Nicki Minaj in big numbers, but she's a failure, stuck in the cheesy and repetitive Barbie alter ego. She no longer has credibility."
The second one pointed out, "It's Funny Watching Nicki Minaj Fans & Cardi B Fans Ridicule The Other Artist Then Complain That The Other Fan Base Always Talking About The Other Artist Like Yall Are Literally The Same Group Of People." "Do Nicki Minaj and Cardi B stans ever get tired of fighting each other? Sheesh. I know the answer is NO lol My timeline is in shambles," a tweet added.
The tensions between Nicki Minaj and Cardi B started brewing in 2018, during New York Fashion Week, Cardi B reportedly got angry with Minaj "after she heard the 'Barbie Tingz' rapper was criticizing her skills as a mother."
Nicki Minaj is on top of the rap game she been doing this shxt for over 12 years SHE INFLUENCED THE GIRLS AND MADE THEM WANNA RAP!! Cardi b ain't none but a stripper that used rap for a come up SHE HAS NO PASSION FOR IT that's why it took 47 ppl to write her album 😭😭 pic.twitter.com/GtVo8mFKyC

— CitiBoii SRT (@lul_flip3x) March 26, 2022
It has been said that the 'WAP' singer then threw her shoes at her. Also, in 2017, Cardi B had apparently slammed Minaj on Instagram Live after 'Swish Swish' was released.
Nicki Minaj is on top of the rap game she been doing this shxt for over 12 years SHE INFLUENCED THE GIRLS AND MADE THEM WANNA RAP!! Cardi b ain't none but a stripper that used rap for a come up SHE HAS NO PASSION FOR IT that's why it took 47 ppl to write her album 😭😭 pic.twitter.com/GtVo8mFKyC

— CitiBoii SRT (@lul_flip3x) March 26, 2022
She reportedly said, "I hate this shit, I really, really do. A bitch like me, I was happier when I was macking in the hood. This shit right here is so fake. When I used to be a regular bitch from the Bronx—a hood bitch—when somebody used to be fake to me, it was cool because I could approach a bitch and punch her right in her closure…. Now that I'm in the industry, you don't work like that, just have to watch shit go, watch shit go."
Image Source: Instagram