OnlyFans Boxer Elle Brooke Tires To Kiss Her opponent During Faceoff As She Wears A Bikini During Weigh-Ins! Check Out The Ultimate Drama
Ebani Bridges was by her friend's side on Friday and she weighed in ahead of the High Stakes concert at the OVO Arena Wembley on Saturday night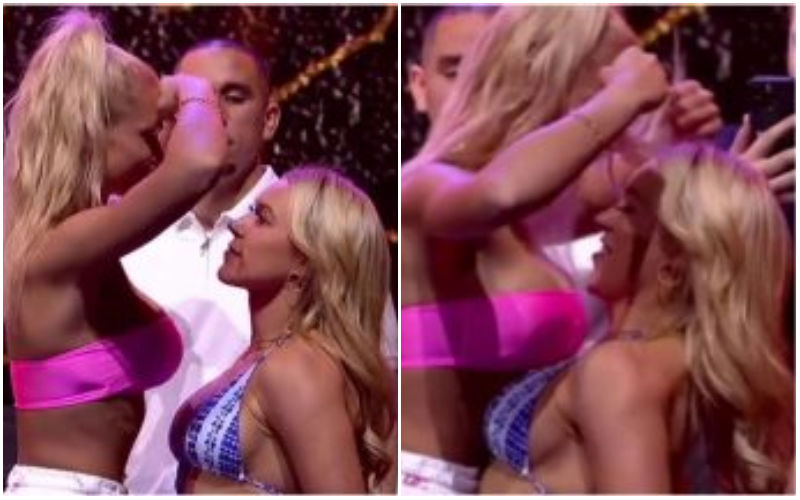 Elle Brooke needs no introduction. She is a skilled performer and she always puts up a controversial show. Thanks to OnlyFans, she doesn't just wait for the opportunity, in fact she seizes it. Now, Brooke is off to a fresh start in the celebrity boxing scene. She picks up Ws with her fists after trash-talking during press conferences and removing her clothes to enter her weigh-ins.

In her boxing debut last year, Brooke triumphed over former Love Island contestant AJ Bunker. She followed that up in January by stopping TikToker Faith Ordway in the first round. She followed followed up in January by stopping TikToker, and both of the battles' buildups were amusing games.
However, there was intense drama as she entered the ring during the weigh-ins for bikinis and everything. As soon as she enters the ring, the entertainment goes through the roof, and the fists take over.
IBF bantamweight champion Ebani Bridges in another boxer who enjoys providing entertainment at weigh-ins, and Brooke's decision to take up the sport has helped her develop a friendship with Bridges. The two have worked on some XXX OnlyFans stuff together, as well as during training.
Bridges was by her friend's side on Friday and she weighed in ahead of the High Stakes concert at the OVO Arena Wembly on Saturday night.
The final time Brooke and Danielka will face one another before entering the ring her bikini weigh-in. During the confrontation, Danielka made fun of their noticeable height disparity. In it, Brooke also made an unsuccessful attempt at a kiss.
Image Source: YouTube