Pamela Anderson-Tommy Lee SEX TAPE: Actress Feels 'Re-Exploited' As She Is Forced To Revisit 'Traumatizing' Past
Pamela Anderson and her then-husband Tommy Lee's sex tape was leaked across the world in 1995.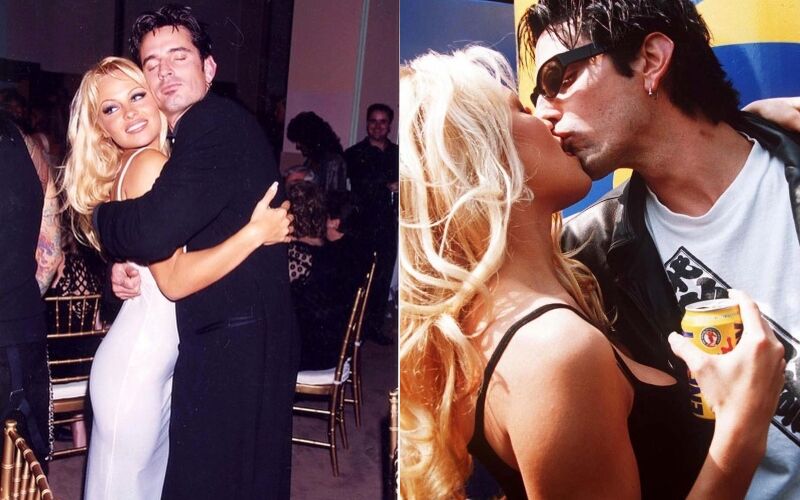 A lot has conspired with Pamela Anderson and her friends are horrified at the thought of her being re-tramatized by the Hulu series 'Pam and Tommy'.

It all started in 1995 when Anderson and her then-husband Tommy Lee's sex tape was leaked across the world.
A source told PEOPLE's magazine, "After the tape​ was made public, it was a very traumatizing situation and it's unfair that she is being re-subjected to this trauma, like re-opening a wound."
The series premiered on streaming platform Hulu on February 2, 2022, on Wednesday at midnight.
The iconic roles in the series featured actors Lily James and Sebastian Stan - who were seen playing Pamela Anderson and Tommy Lee's characters respectively. The video was leaked in the 90s, and obviously, Pam and Tom were devastated.
The X-rated moments from their honeymoon were available for public viewing, this clip was locked in a safe. Unfortunately, it was snatched by a former employee whose role was played by Seth Rogen. After the tape was in his hands, it was made available for everyone's eyes.
The PEOPLE's magazine report quoted a source suggesting that like anyone else, Pamela deserves a level of respect and that this series is trying to re-exploit her.
They continued, "She's a human being and a mom. There's a sense of hypocrisy about it. It's her life and she should have the decision [as to] whether it's turned into a commodity for public consumption."
The source added, "Then when [the leaked sex tape] happened, there were paparazzi following her and always outside of her home. She was not seeking any more attention — she had enough." They added, "If you go back to her Playboy [cover], she always had the perspective that that was her conscious choice."
The source further explained, "But somebody taking her personal home movie, that was not her choice. When someone steals your home movie, that is criminal and that's a violation. That was her privacy."
Speaking about Anderson, the source concluded, "She's a really good person and I think all she's really ever wanted was to be married and have a partner and have a nice life."
Image Source: Instagram/nataliaferragni