Pete Davidson Drives Kim Kardashian's Rolls-Royce, Buys Her Jewels In Beverly Hills Ahead Of Christmas-Reports
Pete Davidson was reportedly snapped buying jewellery for Kim Kardashian.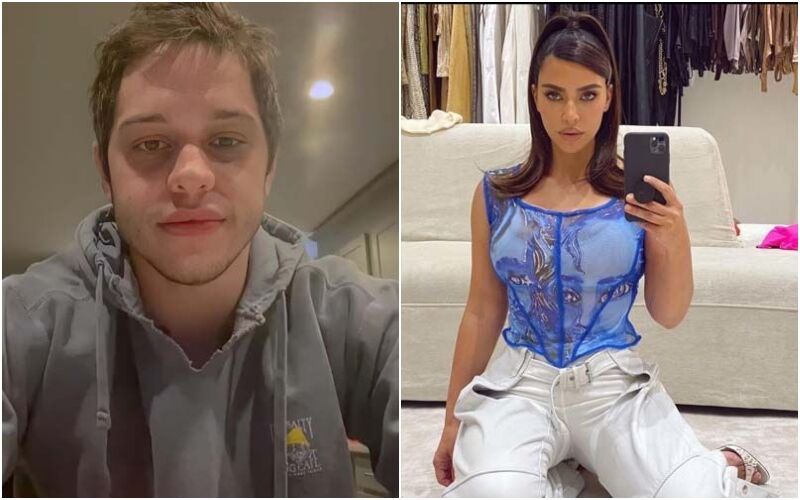 Kim Kardashian and Pete Davidson are going strong with their relationship. With Christmas just a few days away, the couple is likely to celebrate the festival together. Recently, Pete was seen driving her custom Rolls-Royce following their intimate breakfast date together at the Beverly Hills Hotel.
According to a HollywoodLife report, they even drove to nearby jewellery shop XIV Karats, where he picked up some merchandise — possibly a Christmas gift for his new leading lady.
The couple was spotted on December 21 and several pictures featured the SNL star taking off his mask to smoke a cigarette while waiting on his jewels to be brought out to him.
Well, there's a high possibility that Pete will be seen unwrapping gifts in California with Kim and her kids this year.
Recently, Pete and Kim were spotted on another romantic date night in the Big Apple. After their intimate dinner date in Pete's hometown of Staten Island, New York, the duo - accompanied by Scott Disick, and a mystery woman - went to a nearby movie theatre, where they saw the movie House of Gucci.
Well, that's not it!
Pete even took Kim home to meet his mom, Amy — and the two hit it off. Kim and Pete's mother, who he lived with until late December 2020, got along very well, sharing laughs, while also engaging in some "intimate" conversations, said a source as quoted by HollywoodLife.
Kim, who has four kids with soon-to-be ex-husband, Kanye West, 44, "loves the fact that Pete is a mama's boy," the insider revealed.
Image Source: Instagram/PeteDavidson/KimKardashian