Pregnant Sana Khan REACTS After Netizens Lash Out At Her Husband For Pulling Her At Baba Siddique's Iftaar: 'I Told Him Let's Go In Quick'
Sana Khan issues a clarification after her husband Anas Saiyad got slammed for dragging her out from Baba Siddique's Iftaar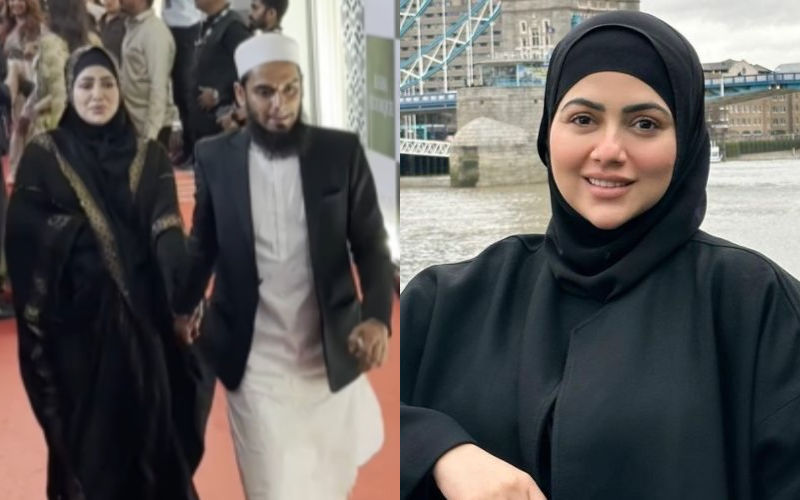 Former actress Sana Khan, who is pregnant with her first child, recently grabbed headlines after a video of her struggling to walk at Baba Siddique's Iftaar party surfaced online. Many netizens slammed her husband Anas Saiyad believing he dragged and hurried the actress out of the venue. Now, Sana has reacted to this criticism and trolls targeting her husband. She issued a clarification saying she herself told Anas to go in quickly from the venue.
She added, "I was the one to tell him let's go in quick as we did t wanted to disturb the paps who were there clicking pics of all the guests. So just a request plz don't think otherwise. Thank you all once again for ur concern. Loads of love to everyone here." Slamming her husband, one netizen commented, "Let her breathe man." Another said, "My God. What is the use of fasting when u can't treat ur, pregnant wife, properly. Imagine how she is treated between 4 walls." One of the users reacted, "Why is pulling her that fast in her condition."

Last month, Sana Khan announced expecting her first child via an Instagram post and said she is excited to welcome her little bundle of joy. In 2020, the former actress took everyone by surprise as she shared her wedding pictures with Anas on her Instagram handle. In the same year, she quit the entertainment industry and chose a spiritual path in her life.