Prince Harry-Meghan Markle's Oprah Interview: Michelle Obama Reacts; Prays For The Couple, 'I Hope There Is Forgiveness'
Prince Harry and Meghan Markle's Oprah Winfrey explosive interview has been a much-spoken topic in the past few days. Now, former US first lady Michelle Obama has reacted to the bombshell interview; she prays for the couple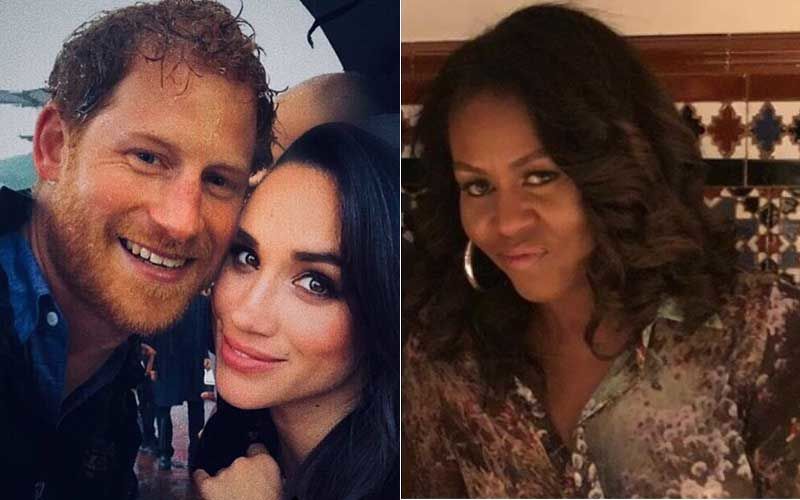 Prince Harry and Meghan Markle's Oprah Winfrey explosive interview has been the much-spoken topic in the past few days. Both, Harry and Meghan made some shocking revelations about the British Royal family. Meghan accused the Royal family of racism, while Harry expressed the troubles he faced when he wanted to protect his family. Later, Buckingham Palace released a statement days after the interview aired. Now, former US first lady Michelle Obama has commented on the bombshell interview; she prays for the couple.
Speaking with Access Hollywood, Michelle Obama prayed for Harry and Meghan emphasizing the importance of family. She shared her thoughts on the interview and said, "My hope is that, when I think about what they're going through, I think about the importance of family." Wishing for Harry and Meghan's overall well-being, the former US first lady continued, "And I just pray that there is forgiveness, and there is clarity, and love, and resolve at some point in time. Because there's nothing more important than family."
Meanwhile, back in 2019, Meghan Markle had interviewed Michelle Obama for British Vogue, wherein they both discussed motherhood. Obama, who is a mother to two, had shared some parenthood advice with the Duchess of Sussex back then. After the interview with Michelle, Markle shared that she was 'left speechless'.
Image source: Instagram/ Michelle Obama; Pinterest