Queen Elizabeth Turns Desi Mom Talking About #Megxit, Netizens Call It Perfect Plot For Saas Bahu Drama-VIRAL VIDEO
A viral video on social media shows Queen Elizabeth with the voice-over of a Desi mom, making it seem like she is trolling the Duchess of Sussex Meghan Markle. Netizens are going crazy about how relatable it is and some even mentioned how it is the perfect plot for saas-bahu serials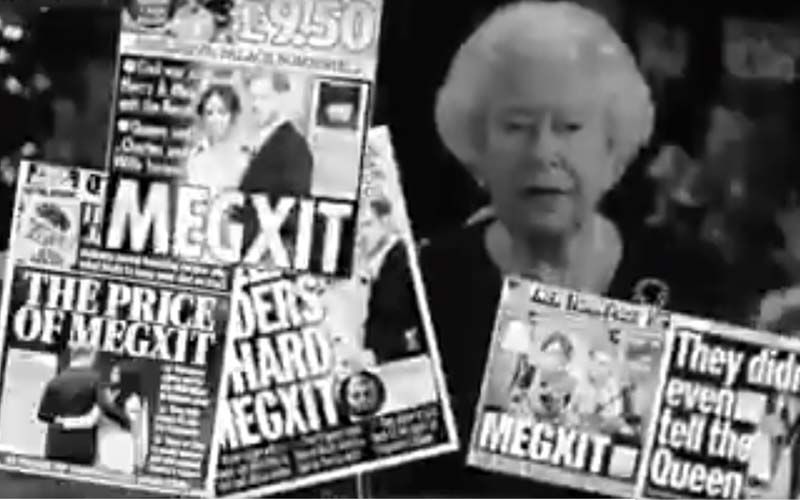 Recently, the Duke and Duchess of Sussex Prince Harry and Meghan Markle made a huge announcement about their decision to step down as working members of the Royal family. They have distanced themselves and are prepping for a new life away from all the royal duties. This news was huge and ever since it has been a hot topic of discussion, especially on social media. Not just that, several memes and jokes on #Megxit have surfaced online and are going viral.
One of these viral posts is a video on social media which media shows Queen Elizabeth with the voice-over of a Desi mom, making it seem like she is trolling the Duchess of Sussex Meghan Markle. Netizens are going crazy about how relatable it is and some even mentioned how it is the perfect plot for saas-bahu serials. The hilarious video has garnered a massive number of views and has also been shared several times. While one tweet read, "..This is perfect plot for Ekta Kapoor's saas bahu serial..only difference ..it is real oh..royal story," while another tweet read, "Real typical punjabi "SaaS" style." Check out the hilarious video here, it is sure to leave you in splits!
ALSO READ: Prince Harry - Meghan Markle Start A New Life In Canada; Warn Media Intruding Their Privacy
Meanwhile, Meghan and Harry had announced in a statement on January 9, "After many months of reflection and internal discussions, we have chosen to make a transition this year in starting to carve out a progressive new role within this institution. We intend to step back as 'senior' members of the Royal Family and work to become financially independent, while continuing to fully support Her Majesty The Queen."
Image Source: Twitter/KarnikaKohli