Recognising Ex-Pornstar Mia Khalifa Can Cost You 7-10 Lakhs! Man Forced To Buy Birkin Bag For Wife After He Recognizes Ex-Pornhub Star On Honeymoon
Mia Khalifa, who often shares quirky and risque content on social media shared how her mere presence helped a woman get a Birkin handbag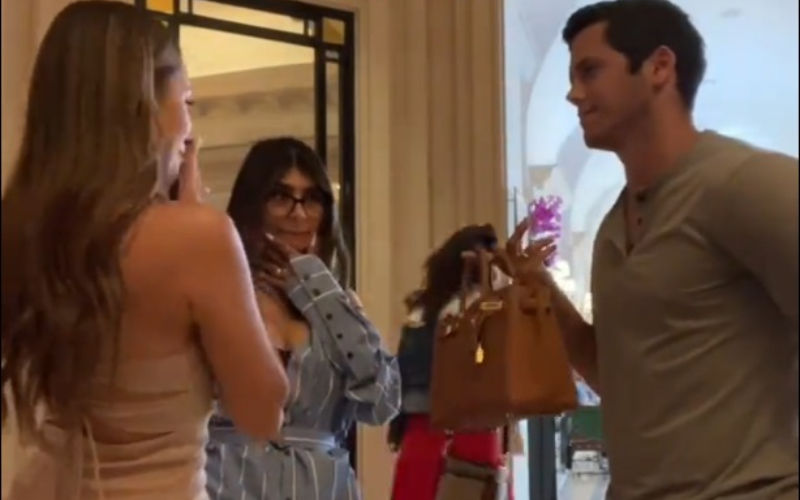 Well, who doesn't know MIA KHALIFA!

And if you claim you don't, you are either lying or you are a saint in this sinful world.
Mia Khalia is a social media personality and she is also known as Mia Callista. The gorgeous Lebanese-American model has often been vocal about the issues that interest her and she has regularly advocated female empowerment with other women.
She has had a fair share of high points in her life. Her very short career in the adult film world helped solidify her foundation as a superstar, but it doesn't represent who she is today. She made a few videos for three months at the age of twenty-one, but now she's twenty-nine years old and she's totally thriving in other avenues of life.
Assuming only the guys are reading this article and you already know Mia, here's a suggestion for you! In any circumstance try not to recognise Mia or any other models.
Acknowledging her identity can cost somewhere between Rs 7 lakh to Rs 10 lakh!
Yes, you read that right!
We hope you learn how to save your money from the incident.
This influencer staying at my hotel in Paris posted a TikTok feeling bad cause her man was excited to see me walk by at dinner last night, and this morning he bought her a birkin to make up for it. A *BIRKIN* !! pic.twitter.com/DQXoZ3xiKV

— Mia K. (@miakhalifa) June 13, 2022
Mia who often shares quirky and risque content on social media shared how her mere presence helped a woman get a Birkin handbag. These handbags can easily cost you around Rs 7 lakh to Rs 10 lakh.
Recently, Mia shared a tweet where she posted a screenshot of a TikTok video originally shared by an influencer featuring a Birkin bag.
The former pornstar revealed that a TikTok influencer who made the video got a Birkin bag after her partner recognised the former adult film star in a hotel lobby.
The TikTok video was shared by Iya Mariella who went on to explain the incident as she wrote, "POV: You are in Paris having dinner with your husband and he spots Mia Khalifa."
Mariella also went on to mention that her husband got 'too excited' when he spotted Mia and texted his male friends about the same.
Sharing the video, Mia commented on Mariella's post and wrote, "Good, he owes you a Birkin." And just like that, to make up for his behaviour, the man gifted his partner a Birkin bag.
Well, we hope you learned your lesson from this!
Image Source: Instagram