Rihanna Can't Keep Her Hands Off Beau A$AP Rocky, Couple Share Romantic Kisss In Barbados Just Days Before His Shocking Arrest
Rihanna and A$AP Rocky were pictured enjoying their romantic time on a blissful vacation in Barbados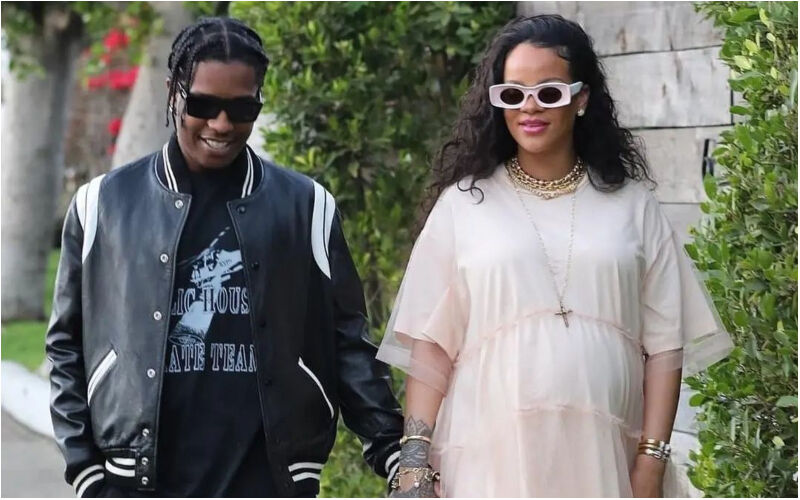 Rihanna and A$AP Rocky are enjoying every bit of romance amid their Barbados vacation. Another picture of the couple has now surfaced on the internet just days before the "L$D" rapper was put in handcuffs at Los Angeles International Airport.

In the sweet pic, taken on April 17, the couple was pictured enjoying their romantic time on a blissful vacation in Barbados, aka RiRi's hometown.
A very pregnant Rihanna can be seen dressed in a skimpy bikini top and multi-colored crochet skirt was seen going in for the kiss as the pair visited a local coconut stand. The couple, who are expecting their first child together seemingly very soon, looked happier than ever, unaware of A$AP's impending arrest, reported HollywoodLife.
While Rocky's arrest was certainly traumatic for all the parties involved, a HollywoodLife report quoted a source who informed that Rihanna has been focusing on staying calm for the last stretch of her pregnancy.
"Rihanna doesn't know what to feel right now," the source explained. "She was completely shocked when they were approached by law enforcement. Rihanna never imagined she'd be involved with something like this and especially not with her pregnancy and everything else going on. Rihanna was absolutely not expecting for things to go down how they did, and this is really the last thing she needs right now."
The source added that the "Stay" singer is just trying to remain "calm, happy, and positive" amidst the troubling situation, knowing that, ultimately, "everything will be okay."
For the unversed, A$AP Rocky was arrested upon his immediate return to the United States after his vacation but later posted $550,000 bail to be released.
He was photographed leaving LAPD headquarters surrounded by several officers after his arrest for a 2021 shooting. The rapper was seen leaving the police HQ and heading into a black SUV in the rear parking lot of the facility, several hours after he was detained at the airport.
Image Source: Instagram/rihannaofficilal