Selena Gomez And Her 16 Tattoos EXPLAINED! The Singer's Love For Body Ink Grows Stronger; Here's A Detailed List Of All Her Tatts
Selena Gomez and her love for body art does not seem to fade anytime soon; here's a compilation of all the information about her tattoos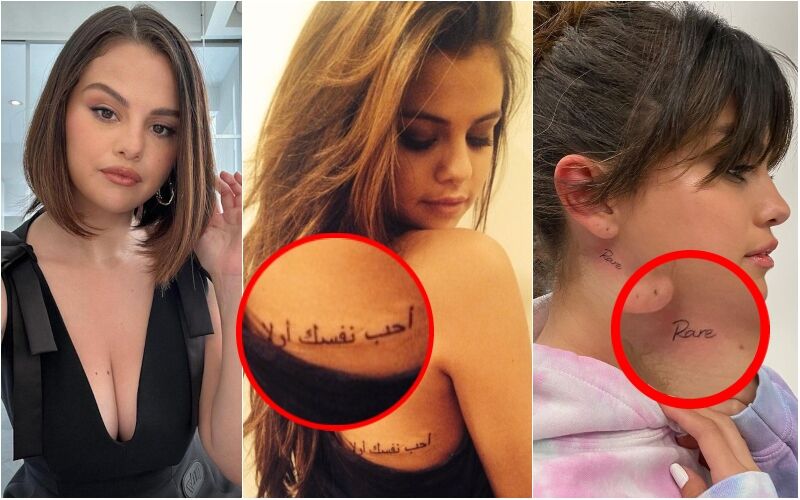 Apparently, it's safe to say, tattoos are the new tan!

And Selena Gomez knows how to express herself with her body art. Known for her stellar style and chart-topping songs, fans also admire her tattoos that cover her body, even though, most of them are small and barely noticeable. But some of the ink, prominently her most recent dripping pink rose on her back, is large and colourful, demanding full attention.
Let us take a look at her 16-art pieces that define Selena Gomez.
The Musical Note
Selena first debuted this tatt on her right wrist in 2012 and fans originally thought it was a tiny black heart. Explaining the same while attending a pre-Oscars party, the then 19-year-old told Access Hollywood at the time, "Everybody thought that it was a heart for some reason, but music is a big influence in my life."
The Family Tribute

The origins of this tattoo are yet a mystery, but the lowercase 'g' tattoo was first confirmed by the singer in a 2015 interview with Refinery29 that the 'G' stands for Gracie, aka her half-sister who was born in 2013.
The God That Strengthens Her
Selena got her third tattoo on her thigh sometime back in 2012, although she kept it a secret from the public for more than a year.
"I've done a pretty good job of hiding it," she told Ryan Seacrest during a 2013 radio interview after fans noticed it following her spotting at the beach. Selena explained to Ryan that "God who strengthens me" is an altered excerpt from her favourite Bible passage, Philippians 4:13.
The Second Family Tribute
Selena's 'LXXVI' tattoo was the second tribute to her family member in 2012. In 2013, the singer then shared a photo of the design with the caption, '1976.' The roman numeral number which translates to '76' is seemingly a tribute to her mother, Mandy Teefey, who was born in 1976 and was just 16 years old when she gave birth to Selena in 1992.
"The tattoo was a tribute to a family member who she said means a lot to her," the artist told the Daily Mail.
The Expression of Self-Love

Selena returned to Bang Bang again in 2014, then opting for another saying — this time on her right upper back. "Selena already had it written out how she wanted," he told E! News at the time, adding, "she had been wanting this one for a while."
"We played with it a bit laying it out, until we found the perfect spot," he said. "She loved it; she flipped out," reported HollywoodLife.
The Game of Numerology
It's yet unclear when the singer got this tattoo but fans noticed it first on Selena's back in 2015, when she was spotted at the beach. Many fans and media outlets presumed it to be the sacred "Om" symbol, but Selena clarified to Refinery29 that it's actually another date, as the writer paraphrased it to represent "when she met one of her best friends eight years ago."
Later, she posted a photo of the temporary tattoo sheet with replicas of her own ink, and the symbol in question looked like "X," "3," and "1" combined into a curly-like font.
The Sunshine
Well, Selena is yet to confirm the origins of her 'sunshine' tattoo on her right foot, but fans suspect that it was sometime in April 2016, when the singer got this tattoo. It was included on her temporary tattoo sheet.
Apparently, she has never spoken about the tattoo's meaning, but once in 2016, she referred to her grandma as "my sunshine" on Twitter.
The Awareness Around Mental Health And Suicide Prevention
Selena, in 2017, produced the Netflix series 13 Reasons Why, and promptly joined the show's stars Alisha Boe and Tommy Dorfman for a tattoo date in Hollywood. Interestingly, as per the show's thematic elements, the matching semicolons represent mental health awareness and suicide prevention.
The Singer And Her #1
Selena inked '1' on the right side of her rib cage as a tribute to one of her best pals, Courtney Lopez [née Barry], whom she calls her "actual #1." She and Courtney shared their tiny matching tattoos in a 2018 birthday post for her BFF.
The Love For her BFF And Their Matching Tattoos
From the looks of it, Selena never shies away from showing off her love for her best pals. The Spring Breakers and her closest friends, including Courtney, Ashley Cook, and Raquelle Stevens, got identical "4" tattoos on different parts of their bodies.
Selena showed her "4" is located on her right forearm just under the crease of her elbow and she shared a slew of photos in August 2018 of the event with her friends.
The Arrows of 'Foreverness'
Selena and one of her co-writers, Julia Michaels, who has helped craft some of the most chart-buster songs, got a matching tattoo on their right hands following the singer's concert in November 2019 in LA.
Following their duet titled 'Anxiety' they shared an on-stage kiss, and got the small, identical arrows on the bases of their thumbs which point toward each other when they hold hands.
Taking to Instagram, Selena shared a collage of polaroid photos taken backstage at the American Music Awards. In one of the pictures, she lifted up her dress to reveal a large tattoo on her upper left thigh which showed two hands joined in prayer and a rosary draped around them.
Like many of her tatts, the design was done by Bang Bang, who also shared photos of the ink session on his own Instagram.
The Intimate Date
Fans first noticed the tattoo on Selena's right elbow when she released 'Rare', mainly seen in her music videos and several spottings.
During a December 2019 interview with CapitalFM, Selena shared that she inked the date she underwent a kidney transplant, noting how she was rushed to the hospital for kidney failure in the summer of 2017 as a result of her lupus, a chronic autoimmune disease.
Selena said her friend and donor, Francia Raisa, also shares a matching tattoo. "I did that with the girl who gave me the kidney," she told the outlet, as reported by HollywoodLife.
The 'Rare' Sight
Selena kicked off the release of her third solo album 'Rare' with yet another ink titled 'Rare' in small black letters on the right side of her neck.
The Symbolism of 'Spirituality'
Selena showed off her Bang Bang original via a short video on his official Instagram handle. The monochrome clip shows a close-up shot of the delicate cross located on her collarbone, then panning to Selena showing her adorable grin as she fixes her mask.
Selena got herself yet another magnificent ink last December 2021 and Bang Bang revealed it via a black-and-white photo of Selena but a colour pop of the new ink: a pink watercolour rose that starts at the base of her neck and stretches down between her shoulder blades.
Image Source: Instagram/bangbangnyc/selenagomez