SHOCKING! K-Pop Idols Kim Taehyung And Jennie Kim BODY-SHAMED On Twitter As ARMY And Blink Fans Compare The Singers- Read Tweets
Kim Taehyung and Jennie Kim face nasty body-shaming tweets as their fandoms battle it out on the social media platform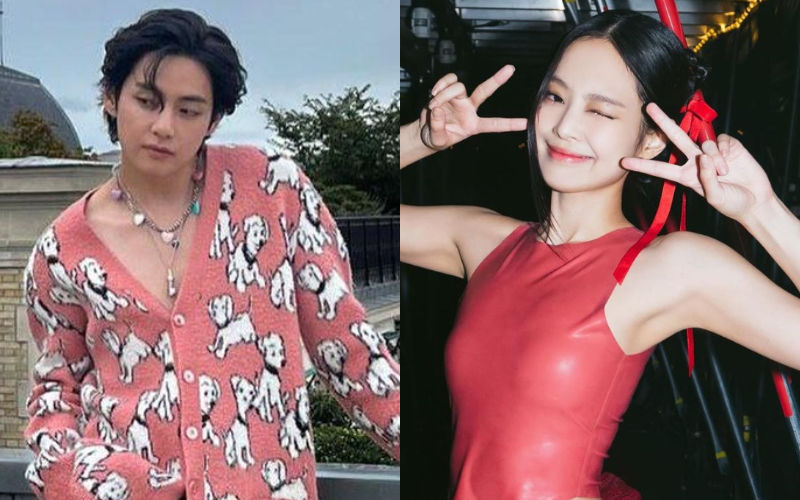 Being a K-pop idol is never easy. They are often subjected to criticism not only from Korean fans but from fans across the globe, as they have to maintain their reputation in all corners of the world. South Korea, as an orthodox country, frequently struggles to accept its idols' westernization.

There has recently been a surge of tweets from rival fans openly body shaming the two idols. For the unversed, both the global icons have been termed as the most desirable Asian celebrities and have left the audience mesmerized with their singing talents. The whole thing started after pictures of Jennie posing in Calvin Klein underwear went viral, while many fans admired her for her boldness, others criticised her for it. They went as far as to state that V doesn't have to shed clothes to garner attention from the audience. They even dragged V's dog, Yeontan, into the mess.
Check out the tweets here:
Many fans stepped in to stop the ongoing feud by stating that they should focus on the art of the musicians.

Yeah! I need the big fanbases of Jennie to speak up. But I saw some who already did an action. The time when lizards use this to drag them, I can't sure what I'm gonna say by that time.

— Ash (@AshAshSha) November 14, 2022
But here she looks like she happy in concert a foreign country away from hate In Korea especially her fans i love her protect poor 😢 Jennie the stuff she goes through maybe she wants love like all of us do.

— Gordon Ungson (@gordon_ungson) November 14, 2022
Armys let's not compare tae's body with jennie's. V is a singer let's compare his skills instead.

— kim seokjin4 (@bts66660816) November 13, 2022
BTS' fandom ARMY and BlackPink's fandom Blink have been at odds since the duo made headlines for an alleged love affair when photos of the two spending time together went viral.Apparently, those pictures were hacked from the phone of the Blackpink star.
While neither Big Hit Music nor YG Entertainment have confirmed the rumours, the latter has hinted at a breach of privacy.
On the work front, Blackpink is currently busy touring the US, and BTS' V is currently working on his upcoming debut solo album before he goes off to his military service. There are speculations that he might also travel to Mexico for a variety show.
Image Source: Instagram