SHOCKING! Will Smith Looks 'Tormented' And 'Broken' As He Tells Jada Pinkett Smith Not To Film Him Without Permission-WATCH
Jada Pinkett Smith can be seen pointing the camera at Will Smith as part of an Instagram Live and pressuring him to divulge if he'd refer Esther Perel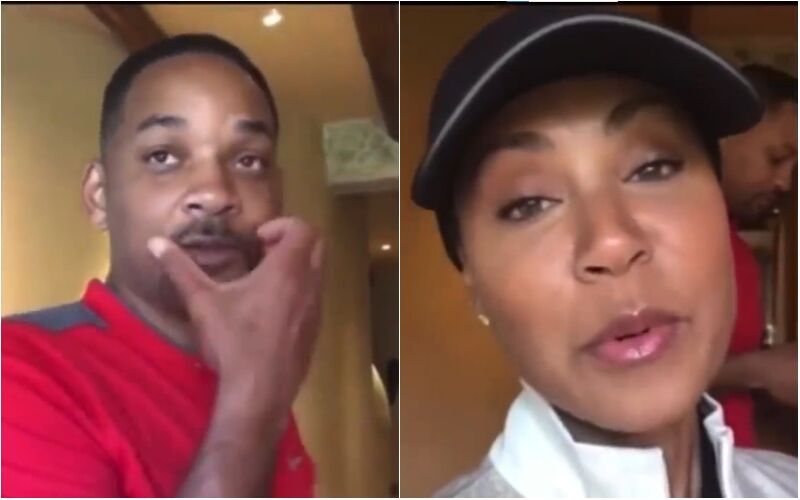 Jada Pinkett Smith has been making it to the headlines after footage of Will Smith demanding that she stop recoding him without permission resurfaces.

The actress can be seen pointing the camera at Will as part of an Instagram Live and pressuring him to divulge if he'd refer Esther Perel, a therapist who assisted them with their marital issues, in the 49-second film, which was shared on Reddit.
Evidently, Will seems uneasy with the entire ordeal and warned Jada that Esther will be on an upcoming edition of her popular show, Red Table Talk: "I would say don't just start filming me without asking me."
Esther spoke on Red Table Talk in 2019, hence the footage is thought to have been shot around that time.
Later, Jada asks Will: "You know Esther Perel is coming to the table, she's gonna be at the Red Table. Would you say she has been instrumental in you and I redefining our relationship?" Will then requests that Jada not videotape him without his permission, to which she responds, "Oh my god. I'm still dealing with foolishness."
"Would you say that she helped us heal the hurts that we caused between one another?" Jada continues. Will explains, looking at the camera, "My social media presence is my bread and butter. So you can't just use me for social media. Don't just start rolling, I'm standing in my house. Don't start rolling."
"Please watch Esther at the Red Table because she's helped us a lot," Jada says, turning the camera on herself. "Can't you tell?" Jada sarcastically asks before the clip stops.
The recently resurfaced footage has sparked a lot of discussion on the internet, and one Reddit user stated, "He looks tormented. I've gone from liking him, to hating him to feeling sorry for him in the space of a week." "He looks broken. I'm back and forth on the slap thing but damn. She ain't good for him at all," one person said, while another added, "Divorce will solve a number of issues here."
Jada and Esther discussed infidelity during their 2019 talk, with Jada informing the audience that Esther's assistance was "instrumental" in resolving her and Will's troubles.
At the time, Jada stated: "In regards to redefining my marriage as a life partnership was the necessity of autonomy for myself and for Will. And finding the core of us that wanted to be together outside of the constraints of the traditional ideas of marriage, because they weren't working for us."
Image Source: Instagram