The Indian Girl Whose Hardship Ivanka Trump Romanticised Says She Is Angry As She Had To Cycle For 1200kms For 8 Days-Video Inside
Jyoti Kumari who was praised by Ivanka Trump for cycling 1200 kms, expressed being irked with the hardship she had to go through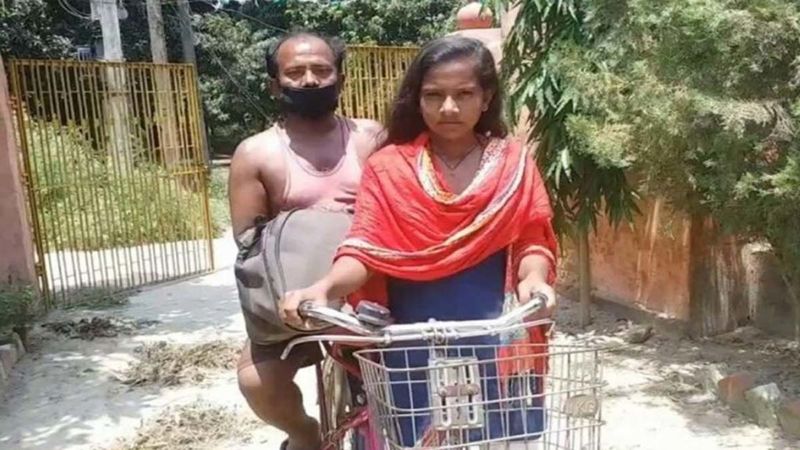 15-year-old Jyoti Kumari who cycled from Haryana to Bihar for 1200 kms with her father amidst lockdown remained in the headline for her patience and hardship. Jyoti was applauded for her courage and undying spirit which got her national and global recognition. Jyoti had to cycle through States as no trains or busses we're available thanks to the lockdown. Not just every Indian but also US President Donald Trump's daughter and senior White House adviser Ivanka Trump applauded her for her courage. After she reached home, well-known journalist Barkha Dutt got in touch with her and asked her about her journey.
During her interview with Jyoti, she asked the 15-year-old many questions, and her answers only indicated of her undying spirit. When asked about how she travelled, what she ate, where she lived in the night, who offered her help, Jyoti in a mellowed down voice answered it all. Jyoti revealed in her interview she and her father stayed at petrol pump during the night and eat food provided by volunteers helping migrants stationed at specific intervals.
When asked wasn't she upset and angry for not receiving help, Jyoti replied though she was, there was no other option to relay on. Also when asked what would she do now, she expressed her desire to study and mostly not return.
Her story has been romanticized. But Lets not deny it was about Cruel Hardship & She is just 15. I talk to Jyoti, the Girl Who Cycled 1200 Kms to Bihar with her Father on the Seat Behind Her. She was Angry, She often wanted to give up. Now she just wants to study. On @themojo_in pic.twitter.com/dnzWCvyVGS

— barkha dutt (@BDUTT) May 26, 2020
Barkha Dutt tweeting her interview on her official Twitter account, wrote, "Her story has been romanticized. But Lets not deny it was about Cruel Hardship & She is just 15. I talk to Jyoti, the Girl Who Cycled 1200 Kms to Bihar with her Father on the Seat Behind Her. She was Angry, She often wanted to give up. Now she just wants to study." ALSO READ:
TikTok's Competition 'Mitron' Is Here; Clocks Five Million Downloads Within A Month
Ivanka had written in her tweet, "15 yr old Jyoti Kumari, carried her wounded father to their home village on the back of her bicycle covering +1,200 km over 7 days. This beautiful feat of endurance & love has captured the imagination of the Indian people and the cycling federation!"
The Voice of the Voiceless...
Keep up the good work!
Your street stories are a million times more eye opening that the studio ones. Please continue with the good work you are doing.

Truly taught those so called 'debating' journalist what real journalism is.@BDUTT Hats off. 🙌 pic.twitter.com/rYp3D0eT4X

— SAURAV MISHRA (@iamsauravmishra) May 14, 2020
Image Source: khelnow