Thor Is GAY? Teaser Features New Possibilities As God Of Thunder Shares A Moment With Star-Lord In Thor: Love and Thunder
The new trailer has Marvel fans convinced Chris Hemsworth's character will be gay in the forthcoming film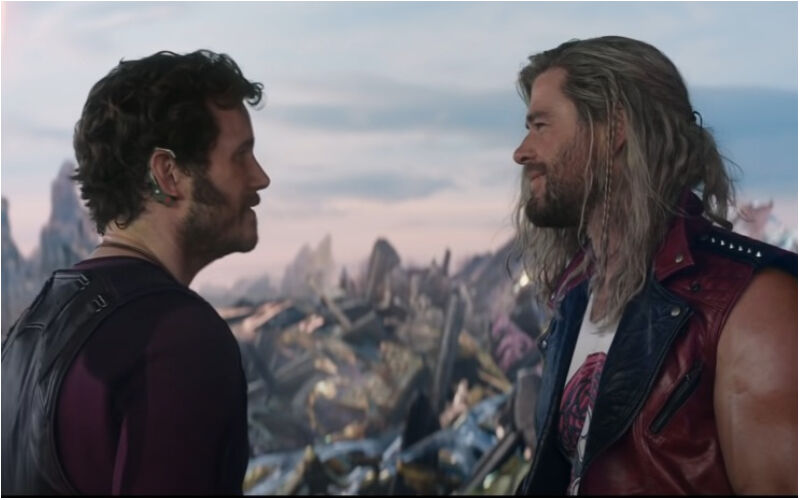 Finally, the much-awaited update on the upcoming Marvel Cinematic Universe (MCU) film has arrived and fans are convinced that the film is touted to be one of the biggest openings of 2022. Now, fans have been making countless theories about the film's characters and several other minor details.

Interestingly, the new trailer has Marvel fans convinced Chris Hemsworth's character will be gay in the forthcoming film.
In the approximately 90 seconds long preview, the God of Thunder can be seen giving Chris Pratt's character a lingering look that many on Twitter believe is a definitive statement on the character's sexuality.
In the clip, Star-Lord AKA Peter Quill (Chris Pratt) and the rest of the Guardians Of The Galaxy: Nebula (Karen Gillan), Drax The Destroyer (Dave Bautista), Mantis (Pom Klementieff), Groot (Vin Diesel), and Rocket (Bradley Cooper) approach Thor.
Star-Lord tells him: "Just look into the eyes of the people that you love."
Shortly, Thor chuckles to himself and humorously responds: "What? Just listening," before awkwardly looking away.
"THOR'S GAY," declared one fan on social media on Tuesday.
Many others celebrated "Thor's gay awakening" in an avalanche of tweets.
"Anyone saying Thor isn't gay is in homophobic denial," joked one social media user, while another exclaimed, "THOR IS GAY!!!!!!!! WE WON".
Another user wrote, "I hope [the film's director]Taika Waititi makes Chris Pratt do a gay sex scene with Thor."
Later in the trailer, Natalie Portman returns to the franchise in truly epic form as the female Thor. The 40-year-old Oscar-winning actress was seen for the first time in full Mighty Thor armour as she was featured at the very end of the Thor: Love And Thunder trailer.
Image Source: Instagram