THROWBACK! Bhuvan Bam Says, 'Don't Get Us Paid, Get Us Laid' As He TROLLS Pornstar Johnny Sins As He Requests Indians To Translate His YouTube Video-SEE TWEETS
Johnny Sins needs no introduction, the adult film star has a massive fanbase in India and he already follows directors like Mahesh Bhatt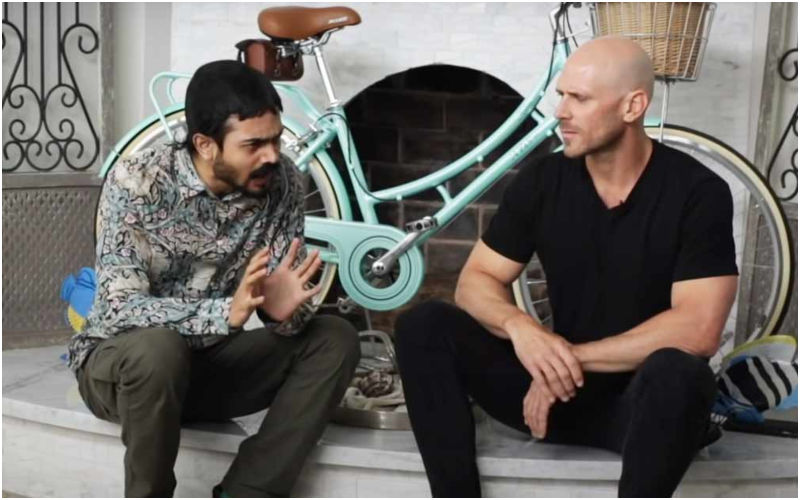 Comedian and YouTuber Bhuvan Bam has scaled great heights. He has been ruling YouTube since 2015 with his impeccable sketches and iconic characters and many videos of his clips have taken the internet by storm. The YouTuber-turned-actor is an avid social media user and he is also known for his sarcastic and equally savage replies on the internet. Now, a clip from his interaction with pornstar Johnny Sins has gone viral and his sarcastic reply has left everyone in splits.

Johnny Sins needs no introduction, the adult film star has a massive fanbase in India and he already follows directors like Mahesh Bhatt. He has been snooping for Indian translators to translate their YouTube videos in an effort to attract followers from India.
Interestingly, there has been a sudden shift in the trend as many YouTubers want to expand their reach and many have opted to start by seizing the Asian market, particularly in India and China, and their interest in these two nations is mostly due to their enormous populations. Developing a fan base in these nations will ultimately earn them millions of dollars in the industry via views on YouTube.
Coming back to Sins' banter with Bam, the adult film star and YouTuber shared a tweet requesting netizens to apply for the position of translator for YouTube videos. He included his email address, jhnnysins@gmail.com, where anyone with interest can contact him about this in the tweet.
However, the tweet was later removed for unknown reasons.
Bhuvan who is known for his sarcastic replies noticed the tweet and gave a witty reply. His tweet attracted the attention of the Indian YouTuber Bhuvan Bam who responded with this answer, "Would love to translate! But don't get us paid. Get us laid."
Bam then further wrote, "'Oh yeah-Yes baby' ka kya translation karna hai bhai? 'Haanji? Arey wah?'"
Check Out The Tweets Below: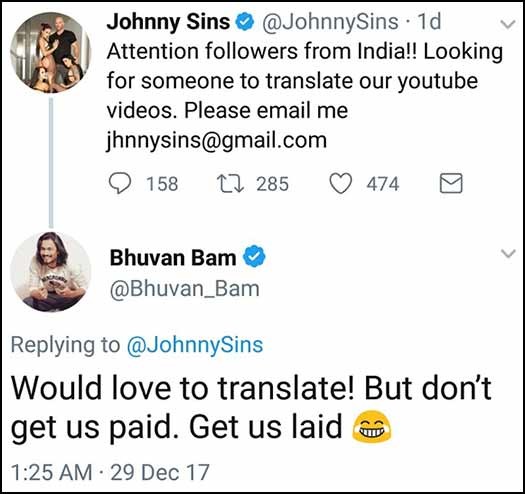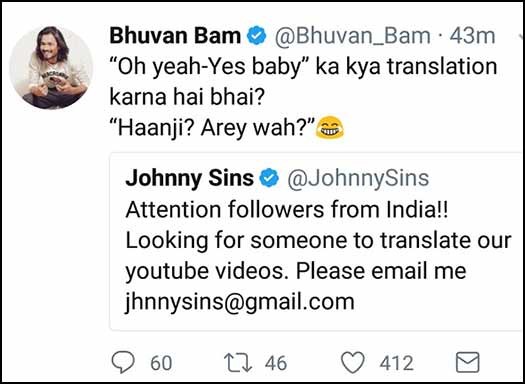 For those unaware, Johnny Sins is popularly known throughout the world for his roles in adult movies. He is one of the most admired personalities on social media owing to his long range of roles in movies, including those of a doctor, police officer, patient, and teacher.
Soon after their social media banter, Bam made a video with Johnny Sins and shared the same on his YouTube channel where he also discussed his viral tweet.
Image Source: Instagram