Uorfi Javed Indirectly CALLS OUT Anupamaa's Sudhanshu Pandey For Calling Her Videos Ghastly? Writes, 'You Guys Gotta Tolerate These Ghastly Sights Of Mine'
Uorfi Javed has clapped back at actor Sudhanshu Pandey's now deleted Instagram story where he shared that he found an anonymous person's clothing a ghastly sight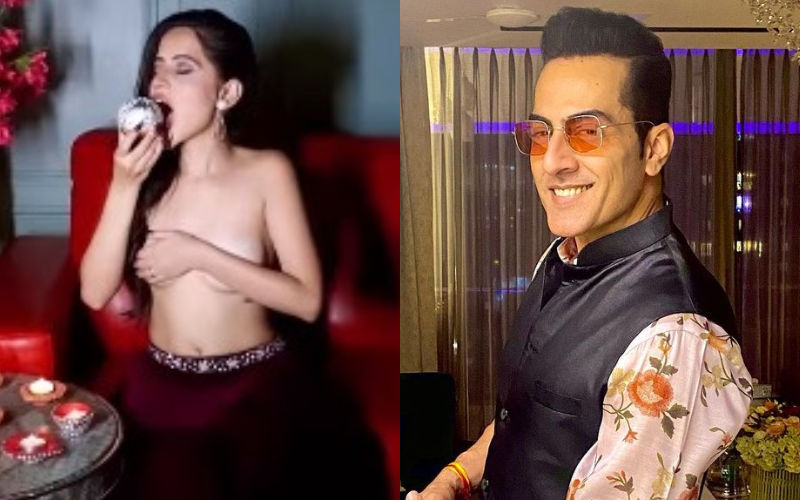 Uorfi Javed is one of the boldest internet sensations of today's generation. Known for her unique fashion sense and for creating clothes out of waste, she has often faced criticism from the audience. The 25-year-old has made sure not to forget the ill words spoken towards her and is often seen slamming the trolls for their words with sassy remarks. It seems like Uofi has yet again clapped back at Anupamaa's Sudhanshu Pandey for calling her videos a ghastly sight.
Taking to Instagram, the internet sensation shared a video of her right shoulder covered with a black rhinestone covered cloth while covering her chest with one hand. She expressed herself in the caption by stating that people who complain about her ghastly sight will have to tolerate her videos until they get rich enough to buy all the social media platforms. ALSO READ: Complaint Filed Against Urfi Javed For Promoting 'Sexually Explicit' Content By Wearing Revealing Outfits In Music Video 'Haye Haye Yeh Majboori'-Report
She wrote, "Till the time you become rich enough to buy twitter , Instagram , Facebook you guys gotta tolerate these ghastly sights of mine . Here's a lesson for you mofos out there - You don't control the world. You're just an average (some of them below average) human beings who think what a girl puts on her body is their business."
For the unversed, it all started when the Bigg Boss OTT star posted a video during Diwali in which she had ditched a top. She had only worn a red skirt, covered her chest with one hand, and ate a laddoo with the other. Sudhanshu then took to Instagram to share, "I don't follow this person but I still have to see such ghastly sights every day thanks to news channels. I'm enraged seeing this. How can you guys even promote such a mockery of an auspicious festival like Diwali… for God's sake it's Laxmi poojan day." ALSO READ: Uorfi Javed COPIES Bella Hadid's Cannes Look, Suffers From Wardrobe Malfunction; Angry Netizens Write, 'Iske Against Koi Complaint Kyu Nahi Karta'
Uorfi had then shared, "The irony. Anupamaa is a show about woman empowerment, where a woman is shattering all the 'normals' set by the society for women. Why don't you watch your own show Sudhanshu? Might learn something."
Image Source: Instagram