Urfi Javed Hits Back At Hindustani Bhau's Threatening Video Message, 'Sudhar Ja Nahi Toh Mein Sudhaar Dunga' On Her Bold Clothes
Urfi Javed lashes out at Hindustani Bhau after he threatened her to stop wearing bold and revealing clothes in public!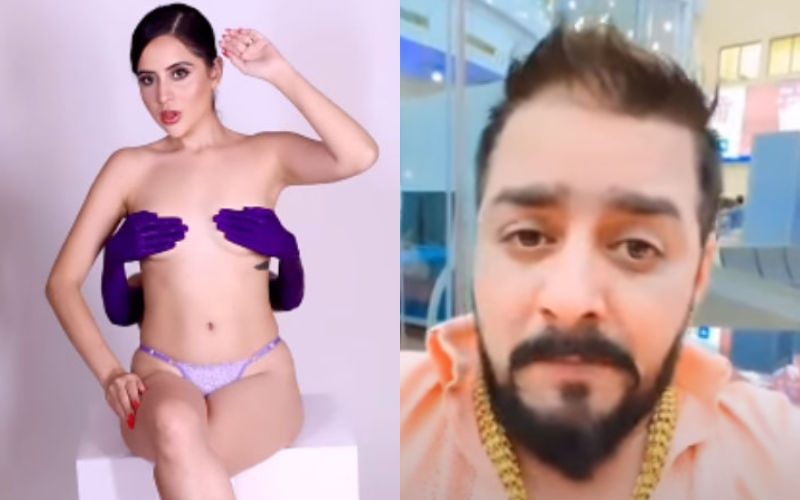 Internet sensation Urfi Javed is known for her bold sense of style and she often receives flak from celebrities for wearing revealing outfits in public. After comedian Sunil Pal, Bigg Boss 13 fame Hindustani Bhau has threatened Urfi to stop wearing bold clothes. In a video message, he said her fashion sense is ruining our Indian culture and is having a negative impact on the younger generation. Hindustani Bhau threatened Javed saying, "Beta, sudhar ja nahi toh mein sudhaar dunga." Now, Urfi has hit back at him mentioning she can put him behind the bars for his threatening message.
Taking to her Instagram story, the Bigg Boss OTT contestant penned a lengthy note that read, "Ohhh!Or aap gaali dete ho wo to India ka Riyaz hai, apka gaaliyo ne kitne logo ko sudhara hai.. Now that you've openly threatened me, you know I can put you behind the bars but wait havent you been there like a million times already? Ye toh kitna achha msg hai youth k liye jail jana, apne se aadhi umar ki ladki ko openly threaten karna. Also remember you told my photographer and Mohsin that you wanna talk to me a few months back that you wanna help me in Obed Afridi's case you wanted publicity and I told you straight away no. I don't want your help! Kapde toh ya hu mere same the! Also one thing f**k you." ALSO READ:
Sunil Pal Lashes Out At Urfi Javed, Claims She Used To Be NUDE For Headlines, Says, 'Ye Pagla Gayi Hai Kya, She's Playing With Our Holy Muslim Nam
e'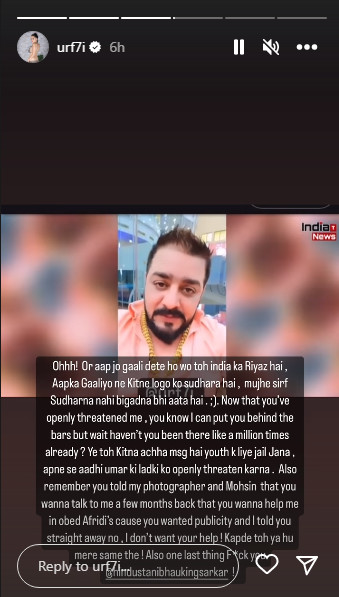 In her next follow-up post, Urfi added that these are the same people who wanted her to come to meet them a few weeks back. Just because she denied their friendship and help, now they are coming at her like this. "Guys trust me they ghan*a care what I wear, they only want publicity. Honestly everyone on the internet threatening to hit me, kill me fu***d me up mentally (no lie.) Imagine being in my posting everyday someone uploading a video against you, threatening to beat you up cause of what you put on your body. I have never said anything ill about anyone, harmed anyone," the social media sensation further explained.
Urfi ended her note by pointing out that she is not scared but concerned about her safety as she feels these people are provoking the common masses against her. A few days ago, Sunil Pal had lashed out at Urfi alleging she used to be 'nude' just to be in the headlines. He called her out for tarnishing the Muslim community.