VIDEO Of Reigning Mrs World SNATCHING The Winner's Crown At Mrs Sri Lanka Beauty Pageant Goes VIRAL; Fight Breaks Out On Stage- WATCH
It got ugly at Mrs. Sri Lanka beauty pageant as the reigning Mrs. World forcefully SNATCHED the crown from the winner. Take a look at the video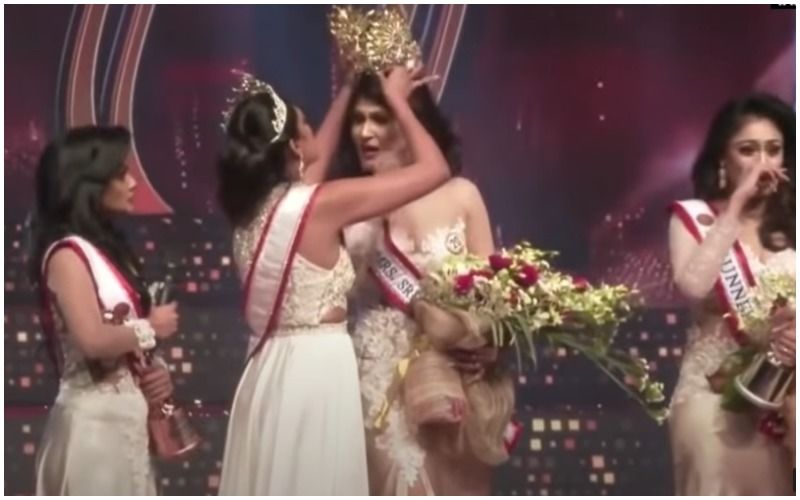 Beauty pageants can be high drama and the epitome of that was Mrs. Sri Lanka beauty pageant recently, during which the reigning Mrs. World, Caroline Jurie snatched the crown from the winner of Mrs. Sri Lanka Pushpika De Silva. It was on Sunday that Pushpika De Silva was announced as the winner of 'Mrs Sri Lanka' at the beauty pageant. However, soon after, a fight erupted on stage as Caroline Jurie grabbed the crown from De Silva's head, and instead crowned the runner-up.
Caroline Jurie is not only Mrs World 2020, but was also the winner of Mrs Sri Lanka 2019. She walked up on stage and explained why she snatched the crown from Pushpika De Silva, and gave it to the runner-up. In the video that is going viral, Jurie can be heard saying, " "There is a rule that you have to be married and not divorced. So, I am taking the first step in saying that the crown goes to the first runner-up."
The video shows Jurie tugging at the crown to take it off Pushpika De Silva's head. De Silva can then be seen walking off the stage, after which the runner-up goes on to give the winner's speech.
Meanwhile, Mrs De Silva penned a post on Facebook, revealing she suffered head injuries from the incident. She also wrote that she is not a divorced woman, but has currently separated from her husband for personal reasons.
It was later confirmed that she is not a divorcee, and while speaking to BBC, the national director of Mrs Sri Lanka World, Chandimal Jayasinghe said that the crown has been returned to De Silva.
Image Source: YouTube/Colombo Gazette