VIRAL! Aliens Are Landing On Earth? Bizarre UFO-Shaped Cloud Hovers Over Southern California; Spooked Onlookers Remember Movie 'Nope'-SEE PIC!
A huge cloud shaped like a flying saucer was spotted outside of Palm Springs in California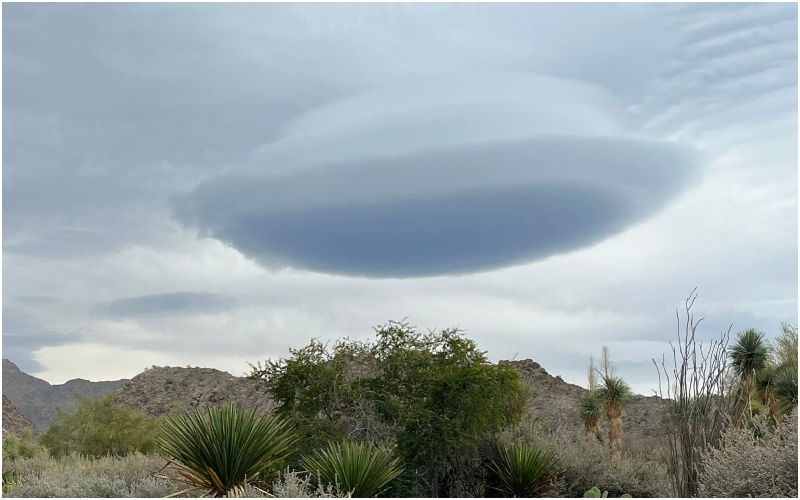 There's no denying, netizens are fairly curious about aliens and UFO spottings. While no substantial evidence about extra-terrestrial creatures has been found, it has only catalysed the discussions around the same. This time, a UFO-like substance was seen appearing in the skies and the picture has been doing rounds on the internet.

In the viral picture, a huge cloud shaped like a flying saucer was spotted outside of Palm Springs in California. It resembled the mysterious alien life from the movie 'Nope' which was released in 2022. The sci-fi horror film focused on the sighting of an unidentified flying object (UFO) near a branch in the Californian desert.
Interestingly, screenwriter Brian Lynch took to his social media handle and posted the life-imitating art when he and his family noticed it on Tuesday afternoon. "It was hanging over us…My kid thought it was really cool," said Lynch. Sharing the picture, he tagged Jordan Peele, who wrote, and directed 'Nope'.
The image surprised the internet and the post has started filling the comment section with 'Nope' jokes. The official IMAX account tweeted, "NOPE!!". "lol nOpe!" wrote another user.
Meanwhile, an eyewitness Dr James Danoff-Burg, the director of the conversation at the Living Desert Zoo and Gardens in Palm Desert and stated that he spotted the display while giving a tour to the visitors.
Danoff-Burg also explained that it wasn't an extraterrestrial object but a lenticular cloud that looked like "stacked pancakes". Danoff-Burg said, "That day was exceptional as we had one that was stacked three levels high – a rarity," adding that they looked "quite spectacular."
Interestingly, this isn't the first time that such clouds have appeared over the zoo's nature preserve.
Typically, the lenticular clouds occur in winter months and are formed from the wind blowing across hills and mountains.
"You have to have a wind that's very uniform in one direction," meteorologist Cindy Palmer of the National Weather Service told the SFGATE last year. "She explained, "As it's moving over the mountain and the way the airlifts, the moisture condenses and forms the clouds."
Image Source: Instagram