EXCLUSIVE! Tulsi Kumar On Collaborating With KiDi For 'Shut Up': When You Come From Different Cultures, Backgrounds Of Music, It Helps To Create Newness And Novelty
Tulsi Kumar opens up about her experience of working with Ghanaian singer-songwriter KiDi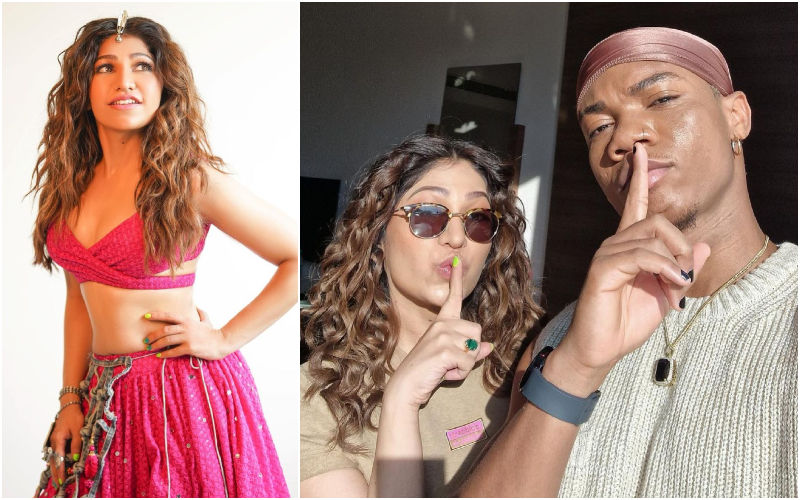 Bollywood singer Tulsi Kumar has left the audience mesmerised by her melodious voice. The singer took a step forward in her career by collaborating with Ghanaian singer-songwriter KiDi, also known as Dennis Nana Dwamena. In an exclusive chat with SpotboyE, she opens up about her experience working with him, shooting the song Shut Up in two days, and her thoughts on composers remaking songs.
1. Your collaboration with KiDi is one of the biggest collaborations of the year. So, how did this collaboration come about, and how was it to work with him?
Well, this collaboration started with talks between KiDi's management and mine, to kind of bring the two artists together. Even before these talks started, I remember grooving to his song 'Touch It' which had gone viral in India. At that time, I had created one reel on the audio, which was really trending on Instagram last year. It just happened that KiDi's management was looking at a tie-up here in India. And Bappa Lahiri, who's a dear friend of mine, suggested my name, and they were keen on collaborating with me. That's how the talks began at the beginning of this year, in January, 2022.
After a yearlong of conversations, from sorting the music to planning the shoot, here we are. Everything was done, we shot the video in December and released it for the audience to enjoy. It's come out as a beautiful Indo-Afro fusion called 'Shut Up'. That is how this collaboration progressed from discussions to reality. I'm very proud to say that it's my first international collaboration. It's getting a lot of love and adulation from all the listeners and viewers who are watching it.
2. If you can share the idea behind coming up with 'Shut Up' and your thought process behind giving an Indian touch to the song?
A collaboration is the combination of two different musical genres that sound beautiful together. 'Shut Up' is an Indo-Afro fusion. We wanted to create a visual representation that was something very different, something that had not been seen before. A version of the song called 'Touch It' was shot by KiDi back in Ghana, so there was already one version of it. When we were doing the 'Shut Up' version, including me and KiDi, we wanted to do it in India and bring out the Indian culture on a global platform. which is why our director, Adil Shaikh, came up with the whole idea of shooting the music video in South India. I was very excited about it.
We all know that South India is very rich in cultural values. Through the song, we've depicted various things that depict the culture of India, especially South India. There's a form of martial art you will see in the music video called Kaliripattu. Then you have the Katthakali dancers, which are part of the music video as well, adding a lot of cultural richness and colour that depicts India. Apart from that, we shot on a houseboat, which is again, a very beautiful visual of our country. We shot it in Kerala, which is God's own country. The whole video has come out beautifully, and the best part is that everybody has really connected with and appreciated the fact that the richness of Indian culture has reached a global platform through the music video.
3. Tulsi, you and KiDi come from completely different cultures, so how has that helped you guys to incorporate your experiences in the song?
I believe that coming from different musical cultures and backgrounds helps you create newness and novelty. I think all the musicians are bound together by music, whether they're from a different country or wherever. Preferences can be different, but we all bond over one common interest, and that is our love for music. But having said that, I think KiDi had already added his Afro touch to the song with the beats. We fused it with the Hindi lyrics, which are written by Bhrigu Parashar, and the music is also created by Tanishk Bagchi. I think it just brings a sense of novelty when two artists from different cultures collaborate.
And since it's my first time, I absolutely loved getting to know KiDi through this song and his music preferences. We discussed a lot of music, we discussed food, and we discussed many other things. It's always good to know different artists and the way they think and what kind of, ignites their creative process. A lot of similarities and a lot of talks happened, which kind of reflect in our music video as well as our chemistry.
4. The song was shot in just 2 days with no time to prepare much, How did you and KiDi pull off things to make 'Shut Up' a massive hit amongst fans?
We've been working on the audio for a long time, so we had the audio ready, but video-wise, I think it was a very quick prep because KiDi had a few dates to work around to come to India, and I had a few dates in the same time span. So we had to kind of pull it off very quickly. We quickly learned the hook step, which is a very easy one. Throughout the video we were in different locations doing the hook step and just having fun with the music and enjoying the song.
I have to extend my kudos to the entire team that shot the music video within two days because we pulled off three to four very grand locations. For some locations, we had to really walk, all the way into the waterfall, and then there was this houseboat, so we shot it from another houseboat, coordinating everything. Adil and his entire team pulled off the shoot and we kind of, me and KiDi, as artists we gave in our 200% of whatever was needed.
5. Tulsi, these days, we see a lot of old songs being remade. While very few manage to do justice, others fail to strike a chord with the audience. What's your personal take on the iconic songs being remade?
My personal take is that if a song is being recreated or remade, you can't afford to go wrong with it. You have to handle it with care. It needs to be done extremely tastefully because the audiences have their own sentiments attached to the iconic song that's being recreated. A lot of times, comparisons are made—a lot of similarities, what was better in the earlier version. Having said that, if it's done tastefully and handled with care, there are few recreations that have done well. I've personally been part of Soch Na Sake and Saki Saki that have gotten great responses from audiences. This is a very personal choice. Some people like recreation, some people stick to their previous versions that they've heard over and over for years. So it's a very personal choice, very subjective from person to person.
6. You recently performed at Assam's Falcon Festival; tell us about your experience and how it felt to be the only female artist there.
It was an amazing experience performing at the Falcon Festival. It is one of the biggest festivals in the Northeast, and being the only female artist performing there gave me a lot of glory and pride. Me and my entire team gave it our 200% because there was a huge audience that was there to give us their love and support. As I've said, the audience in the Northeast is also musically very, very strong. It's great to play for an audience that has so much love and passion for music. I had a great time. Of course, from Bombay to Guwahati, it's a three-hour air flight, and then we took a six-and-a-half-hour road journey to get to Umrangso, which is a couple of hours away from Guwahati. I think the entire trip, including the travel, was absolutely worth it because of the kind of response and love we got from the audiences at the Falcon Festival. It was an incredible experience, and I hope to return there soon.
Released on December 20, Tulsi Kumar and KiDi's Shut Up is a perfect blend of cultures.
Image Source: Instagram