VIRAL! Aliens Visit Strip Club In Las Vegas? UFO Like-object Spotted Hovering Above Sapphire Gentlemen's Club-DETAILS BELOW!
A meteorologist said that the lights are likely to be a phenomenon called light pillars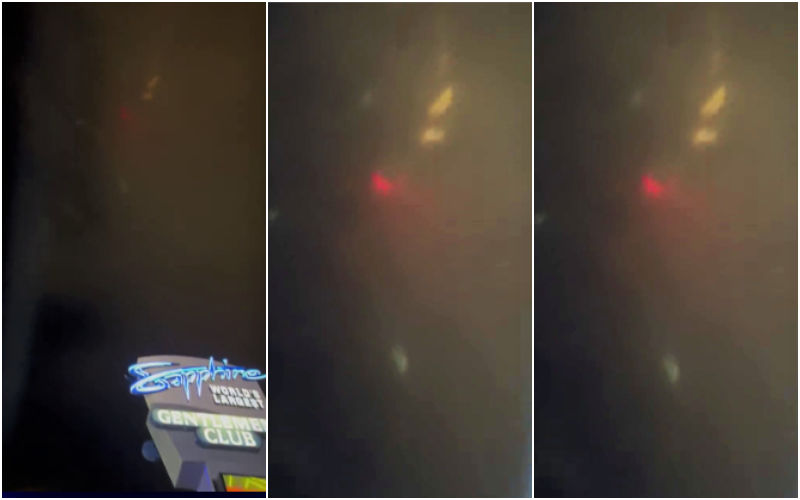 The internet is a hub for endless entertainment and bizarre videos! While netizens are eagerly trying to find the truth about extraterrestrial species, a few spotted what appeared to be a UFO hovering above Las Vegas strip on December 23, 2022. However, an 8NewsNow report suggests that the sight was likely a rare weather phenomenon that isn't usually seen in the Las Vegas valley.

A few workers posted a video in the wee hours of several lights hanging out in the clouds just above the Saphire Gentleman's Club on Sammy Davis Jr. Drive. The video featured a few stationary red and white lights in the clouds with four spotlights moving around them.
In the background, people can be heard speculating about what the lights could be. A person can be heard saying, "Honestly this is really strange. I mean we're here every night I've never seen anything like this."
An iHeart report quoted a meteorologist with the National Weather Service in Las Vegas who said that the lights are likely to be a phenomenon called light pillars. The National Weather Service's website describes light pillars as:
"Long pillars of multicoloured light streaking the sky seems like the perfect backdrop for impending alien invasion, but in reality, light pillars are a common effect that can be found all over the world. They do come from above — not extraterrestrials, but tiny crystals of ice hanging in the atmosphere. Ice is very thin, shaped like plates with hexagonal faces. When ice drifts down through the air, it falls close to horizontally. At the top and bottom are the faces with more area. Ice is very reflective, so when light hits those wider faces, it bounces around and reflects off more ice crystals."
Well, it seems we are far from making contact with aliens.
So what people were witnessing was simply the brilliant lights from Sin City being reflected by weather activity in the sky.
"That means we get these vertically stacked mirrors floating in the atmosphere," the National Weather Service further explains. "The light hitting it gets reflected up and up (or down and down, depending on the source), and becomes a radiant column in the sky. Light can come from the sun, moon, cities, street lights--any strong light source."
Las Vegas visitors got to enjoy the spectacle of the city's bright and colorful lights in a rare new way: on the ground and in the mystery of its reflection from above.
Image Source: Instagram