VIRAL! Chinese Couple's Unique And Innovative Protective Shield Amid COVID-19 Surge In China Stuns The Internet-WATCH
The couple can be seen buying groceries while they are covered from head to toe by a plastic sheet around them, and it seems to be similar to a raincoat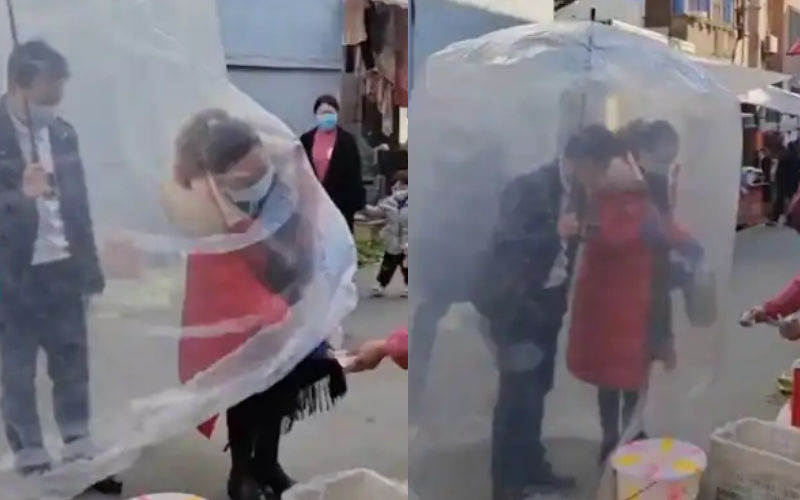 The wrath of COVID-19 does not seem to be ending in China, and the deadly virus has pushed humans to explore their most creative ideas to be safe. While China battles a severe outbreak of the coronavirus and its hospitals and health centres are overcrowded with patients, a new video of a couple at the vegetable market in China has gone viral on social media, and this seemingly gives hope to all the people across the globe.

In the video, the couple can be seen buying groceries while they are covered from head to toe by a plastic sheet around them, and it seems to be similar to a raincoat.
They can be seen covering themselves with only a sheet that is slightly lifted when the woman takes the parcel from the shop. She immediately pulls down the sheet to avoid any form of transmission. Interestingly, she follows the same process while making the payment.
After the shopping process, the couple simply walks away and they do not seem to be surprised.

The caption of the video reads:, "Such measures are being adopted in China to avoid corona infection." The post has since garnered more than 60k views and 964 likes.
However, contrary to the video, Chinese authorities have said that the top health body will stop publishing daily Covid-19 data amid backlash over inaccurate reporting.
The recent report comes in the light of criticism faced by the nation over its decision last week to narrow the criteria by which Covid-19 fatalities were counted, which the experts said was an attempt to suppress the real fatalities, the news agency AFP reported.
Image Source: Twitter