VIRAL! Desi Couple Engage In PDA On Moving Bike? Police Book Two Individuals Under Motor Vehicle Act And Spreading Obscenity-REPORTS
The two youngsters on the bike appear to be a couple, however, police have clarified that both indulged in the public display of affection (PDA) are girls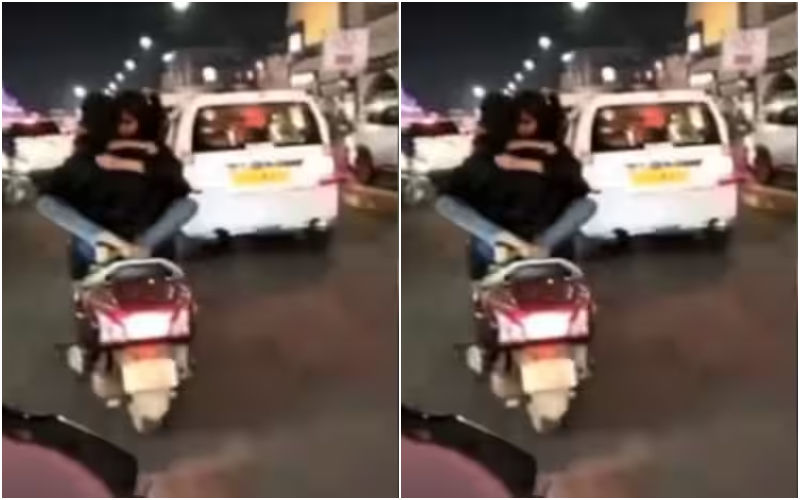 Love seems to be in Lucknow's air; however, some seem to be polluting the ecosystem with their filmy romance (Zakir Khan would surely frown in disappointment). A desi couple has apparently recreated Tom Cruise and Jennifer Aniston's iconic action scene from their film Knight And Day, but on a scooter.

A video of the same has been making the rounds on the internet since Tuesday night where two persons can be seen hugging each on a moving scooter in a busy Hazratganj area.
(Plot Twist) The two youngsters on the bike appear to be a couple, however, the police immediately took cognisance of the offence and clarified that both indulged in the public display of affection (PDA) are girls.
"The couple seen in the video is not a boy and a girl as it appears, but these are two girls. The entire incident is being investigated and another probe under the relevant sections of the MV Act will take place," Additional Deputy Commissioner of Police (ADCP) Central, Rajesh Srivastav said.
The now-viral clip saw the duo hugging each other and indulging in PDA, while the video seems to be shot from a vehicle moving behind them. Soon the video went viral, after which the police started investigating the footage.
Aparna Rajat Kaushik, the Deputy Commissioner of Police in Lucknow Central Zone, confirmed that the video is from Lucknow and was taken in the Hazratganj area.
Netizens were baffled by the incident with many blaming the younger generation.
यही सीन शाहरुख या सलमान की फिल्म में होता, तो लोग तालियां पीट रहे होते? जबकि यहां लखनऊ के तहजीब की बात की जा रही है। जबकि बात उन दोनों के हेलमेट न लगाने और एक्सीडेंट होने की संभावना पर होनी चाहिए. #Lucknow pic.twitter.com/paGKjnYIx1

— saurabh verma (@sauver3192) January 18, 2023
Gar ishq hai to iqraar hona shaoori hai, magar kya zamaane ke saamne aisa khatarnaak izhaar zaroori hai?

RISKY. Don't do it. Neither in #Lucknow nor anywhere else. Follow traffic rules, drive safely. It can cause imbalance. Face not visible, so posted. Got through social media. pic.twitter.com/ABeuNxF3j5

— Shams Ur Rehman Alavi شمس (@indscribe) January 17, 2023
"Yes they made themselves Proud On a Riding Position. Sorry For their Parents Wonder why the Traffic Police did not spot or there is no Traffic Police implemented on this busy road For such kind of stunts use your Private rooms or couple friendly hotels," wrote one person
"I feel laws related to traveling over bike for safe travel should be unlocked among youngsters. Also, these two girls should know safe travel laws using helmet. They should know how to travel safely. It's not always fun, accidental cases are rising day by day!"
Currently, the police are checking the CCTV footage from the cameras and said that action will be taken against the duo under the Motor Vehicles Act and also for spreading obscenity. "Their behaviour not only transcends the boundaries of decency and social behaviour but is also an offence under the Motor Vehicles Act," said a senior police official.
Image Source: Twitter