VIRAL! Ex-Sarpanch In Gujrat's Mehsana District Showers Money From His House At Nephew's Wedding-WATCH
The money was showered as a part of a celebration of Agol sarpanch Karim Yadav's nephew, Razak's wedding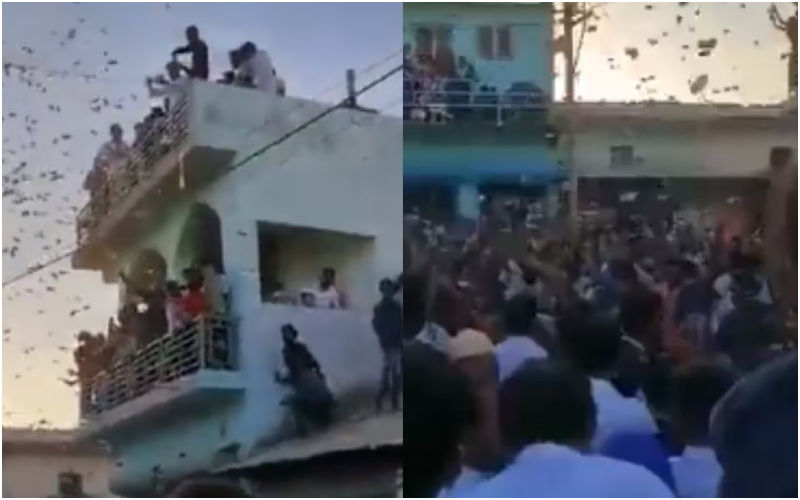 A former Sarpanch in Gujarat's Mehsana district surprised the residents of Agol village in Kekri tehsil when he started showering Rs 500 currency notes as gathered under the house. As per the reports, the money was showered as a part of a celebration of Agol sarpanch Karim Yadav's nephew, Razak's wedding.

Now, the videos of Yadav have some of his family members have gone viral and it even featured a huge crowd that can be seen gathering in front of the house to collect wads of cash being showered from the house.
In the clip, it was seen that Razak's procession in passing through the village when the former sarpanch and his family members started showering Rs 500 notes on people gathered to witness the celebrations from the rooftop, reported News18.
Former sarpanch showers cash at wedding event in Gujarat's Mehsana.

A former sarpanch of a village in Gujarat's Mehsana showered money on people gathered to witness his nephew's wedding celebrations.
pic.twitter.com/BjkeZgKW67

— Ahmed Khabeer احمد خبیر (@AhmedKhabeer_) February 19, 2023
Meanwhile, in the background, a Bollywood song "Azeem-O-Shaan Shehenshah" from Jodha Akbar can be heard playing in the background, as people standing below the house try to catch the falling notes.
This isn't the first time a bizarre video has gone viral on the internet and netizens have been baffled by the video and many pointed out, "That's why India is a poor country".
A few others wrote: "Farzi series in real life", "I wonder why people are so calmly collecting it, without any rush😮", "sab 10 rupey ke note honge", "Ye idr Pakistani Gujrat waly bhi yhi sokhian Marty Hain ... 😂😂😂hence prove Gujrati is Gujrati chya dash ka Naam Alaag ho".
Netizens also pointed out that "Giving back money to the people from whom he stole in the first place." A few also opined "aise hee greebi aa jayegi fir inke pushte batien krengi hmare papa ki shadi mein noto ki barish huyi thi hum kitne ameer the na 😂."
Image Source: Instagram